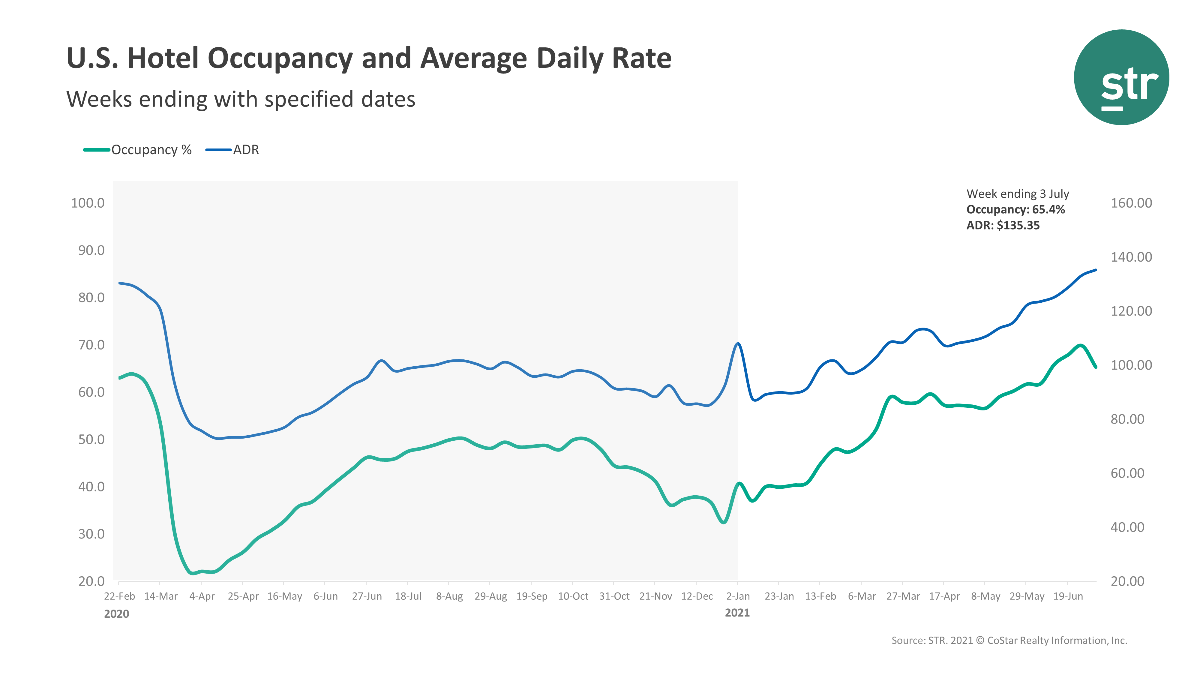 OCCUPANCY FOR U.S.  hotels went down some in the first days of July, but ADR rose on a weekly and yearly level, according to STR. The holiday work compared favorably to the same time in 2019.
Occupancy reached 65.4 percent for the week ending July 3, down from 69.9 percent the week before and down 0.1 percent from the comparable time in 2019. ADR was $135.35, up from $133.36 the week before and up 5.8 percent from 2019. RevPAR sank from $93.19 the week before, finishing at $88.51, which was still up 5.7 percent from 2019.
"While occupancy was down because of the holiday week, overall comparisons were more favorable because of low performance during the corresponding week from 2019," STR said. "That week in 2019 was lower due to the 4th of July falling on a Thursday."
Phoenix and Detroit were the only markets among STR's top 25 to reach double-digit occupancy increases over 2019. Phoenix's occupancy rose 14 percent to 60.2 percent and Detroit went up 13.1 percent to 64.4 percent.
San Francisco/San Mateo experienced the steepest decline in occupancy when compared with 2019, dropping 32 percent to 50.9 percent. Miami reported the largest ADR increase over 2019, rising 35.1 percent to $219.60, while Phoenix saw the highest jump in RevPAR, up 43.1 percent to $66.11.
RevPAR for New Orleans dropped 45.3 percent from 2019 to $66.48, the largest drop in that metric among the top 25, followed by San Francisco/San Mateo with its 39.6 percent fall to $80.13.