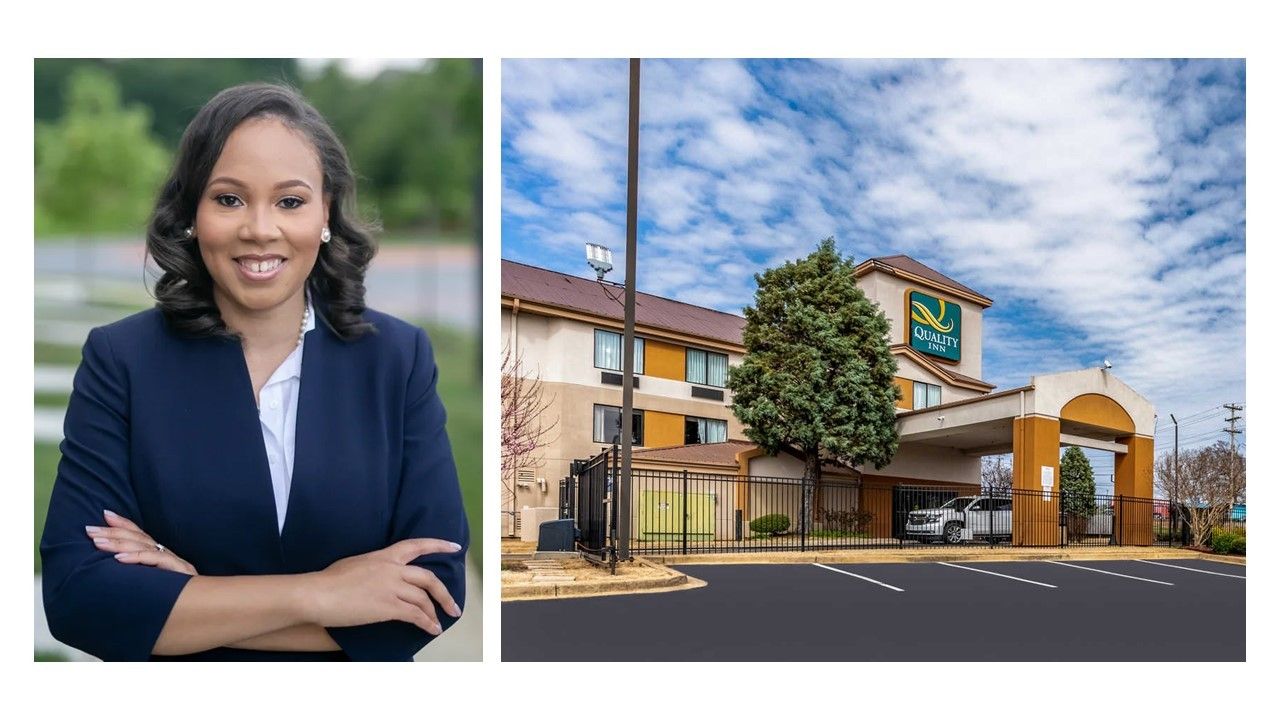 REAL ESTATE INVESTMENT competition She Has a Deal 2022 SHaDPitch Today's Woman competitor Amina Gilyard James recently acquired the Quality Inn in the Raleigh neighborhood of Memphis, Tennessee. James said the competition prepared her company for the acquisition.
The 70-room hotel is near downtown Memphis, Beale Street and AutoZone Park, home of the Triple-A Memphis Redbirds and the Memphis International Airport, according to SHaD. Amenities in the property include a business center and indoor heated pool and hot tub. James' firm Duke Ventures plans to invest $500,000 to refresh the property with new paint, FF&E and additional cosmetic improvements.
"The SHaDPitch competition and its curriculum provide an invaluable inside look at the hotel industry," James said. "It provided a roadmap and extensive network that gave me foundational knowledge of the hotel acquisition and ownership space. SHaD prepared my company, Duke Ventures LLC, to make the smartest investment possible. We're proud of the deal we made and optimistic about what the future holds for this property and our investors."
The Quality Inn marks Duke Venture's third hotel, but its first as the sponsor and general partner.  The company targets select-service hotels throughout the Midwest and mid-Southern states.  According to a statement, Duke Ventures plans to acquire two more hotels over the next three to five years.
SHaDPitch is a hotel investment pitch competition launched in 2020 to catapult women on their journey to hotel ownership by facilitating the process for acquiring or developing a hotel and securing capital for the deal.  Competitors identify a viable project and pitch the deal to potential investors who also serve as judges, and one team walks away from the competition with $50,000 in deal equity.
However, all competitors are armed with in-depth knowledge and an extensive network to make their own hotel deal.  Prior to competition day, competitors take part in six months of coursework. This multi-module educational series is delivered on SHaD's EdTech platform by hotel industry luminaries, the statement further said.
"I launched SHaD, and specifically the MasterClasses, to help women like Amina succeed. It was important for me to share everything that I learned along the way and the things that I wish I would've known from the outset," said Tracy Prigmore, SHaD founder. "To watch Amina go from taking our MasterClasses to competing in SHaDPitch 2022 and setting a goal to close a deal by the end of the year is to see my life's work in action. I am so very proud of her achievement. She earned it, and she closed the deal."
In February last year, SHaD started a 10-city tour of U.S. cities to raise equity capital under the name "SHaD Prosperity Fund I."
The SHaDPitch 2023 is scheduled for April 27-28 in Bethesda, Maryland.