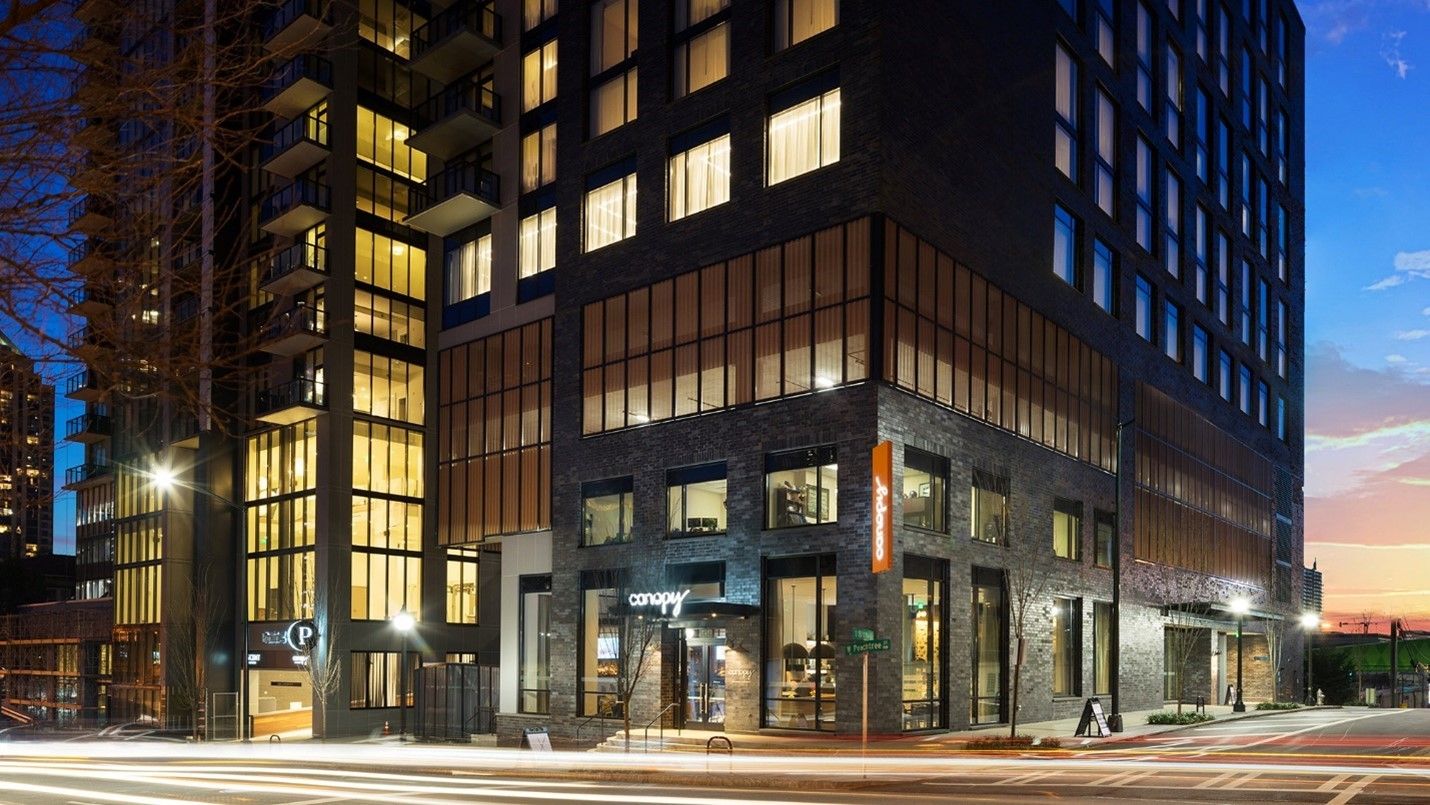 ATLANTA-BASED PEACHTREE Hotel Group recently acquired the Canopy by Hilton Atlanta Midtown hotel in Atlanta. The company's affiliate Peachtree Hospitality Management will operate the property.
The 176-room, 15-story Canopy is a lifestyle hotel that opened in 2018 in Midtown Atlanta, according to Peachtree. The area has the largest concentration of arts and cultural attractions and businesses in the Southeast.
"Midtown Atlanta is one of the hottest markets in the country right now, and we are excited to be able to make this investment in our backyard," said Brian Waldman, Peachtree's chief investment officer. "The Canopy Atlanta Midtown fits our investment criteria of investing in premium-branded hotels in growing submarkets with strong demand drivers."
Nearby are the Atlanta Arts MARTA station, Museum of Design Atlanta, Savannah College of Art and Design and the Breman Jewish Heritage Museum. Other attractions include Pershing Point Park, Ansley Park and Piedmont Park, along with companies such as NCR, Norfolk Southern, Microsoft, Anthem and Google.
"Also, lifestyle hotels, like Canopy, address the growing trend in travel that combines business with leisure. While still offering similarities and predictability across the Hilton brand, no two Canopy properties are alike, appealing to today's discriminating traveler looking for unique experiences," Waldman said.
The terms of the transactions were not disclosed.
Since its founding in 2008, Peachtree, a real estate private equity investment firm focused on hospitality, has completed more than $6.9 billion in real estate investments. It currently has $2.2 billion in equity under management. It is led by Mitul Patel and Jatin Desai as managing principals along with Greg Friedman as CEO.
PHM manages the performance of 81 hotels, across 23 brands with 9,579 rooms located in 21 states.
In March, Peachtree added seven hotels to its portfolio for $135 million. Three of the hotels also are part of Peachtree's third investment partnerships with San Mateo, California-based Verakin Capital led by partners Rupesh and Bimal Patel and Hiten Suraj.