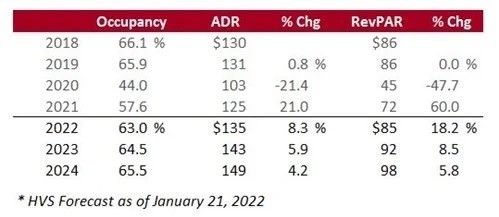 THE U.S. HOTEL industry will be well on the way to recovery in 2022, according to consulting firm HVS Americas. However, a full recovery in real terms, after adjusting for inflation, remains a few years away, it added.
With more assets, both distressed and well performing, expected to come to market this year, 2022 will be an exciting year for the industry, said Rod Clough, president of HVS, in an article titled 'ALIS 2022 Takeaways – Our Industry Braces for a Big Year Ahead'. A near full recovery in RevPAR at $85 for U.S. hotels is likely to happen by the end of 2022 when compared to $86 in 2018-19.
"The higher inflationary environment will continue to bode well for hotels, resulting in ADR pricing power leading to a lift in revenue on top of still lean operational models. Group travel is still lagging the recovery, but near-term, smaller-group bookings (at newly raised room rates) should help bridge the gap while the industry waits for larger meetings to return," Clough wrote in the article. "Rising development costs due to supply-chain disruptions, labor shortages, and overall inflation are leading to a general contraction in new hotel openings. Moreover, development challenges are intensifying for major CBDs, attributed to slow office re-openings, a lag in larger convention bookings, higher operating/labor costs, and even higher construction costs than your average project."
According to HVS, performing assets coming to market are higher than 2019 values. If a property is located in a high-barriers-to-entry market and is well branded, buyers are willing to pay significant premiums, ultimately driving cap rates to new lows, the report said.
"Distressed sales and strategic capital raises are expected to increase in 2022. Some select-service owner/operators are migrating into more full-service opportunities given the potentially higher returns and compressed cap rates for select-service and extended-stay hotels," said Clough.
He pointed out that some owners that have projects currently under construction are considering selling immediately upon completion given the buyer demand for a newly constructed/turn-key asset.
"Financing deal volume in 2022 will exceed last year's volume. The combination of excess liquidity and favorable financing terms are driving up asset values. More and more lenders are opening up to the hotel industry as it recovers," the report said.
The Federal Reserve Board recently announced that it will be tightening and increasing interest rates this year. HVS expects its impact during the second half of 2022.
In a report last year, HVS urged hospitality industry to re-focus its efforts to meet future staffing requirements to speed up recovery.