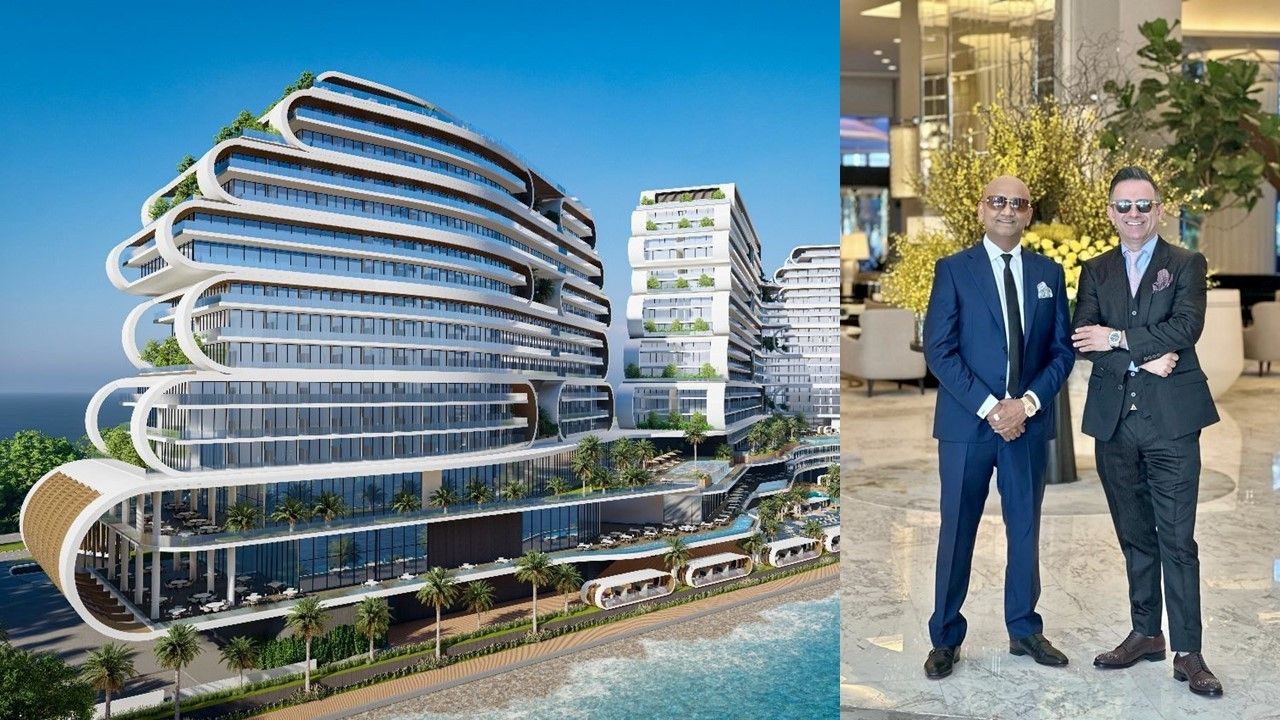 TWO U.S.-BASED Asian American hoteliers are planning to develop a $1.3 billion luxury J. W. Marriott International resort in Dubai, United Arab Emirates. The JW Marriott Al Marjan Island Resort & JW Marriott Residences Al Marjan Island, which is being developed by WOW Resorts founded by Bhupender 'Bruce' Patel and Anwar Ali Aman, is scheduled to open in 2026.
Patel and Aman held an unveiling ceremony for the project on Nov. 15 along with Abdulla Al Abdouli, CEO for Marjan, master-developer of freehold property in Ras Al Khaimah including Al Marjan Island, and representatives of JW Marriot. Designed by Beverly Hills Architect Tony Ashai with Dubai-based Lead Consultants Architecture Design Unit, the project will include 524 residences with one to four bedrooms as well as penthouses, along with 300 guest rooms. It will have seven dining venues, pools and a fitness center.
The new WOW Resorts property is near Ras Al Khaimah International Airport and Dubai International Airport. Marjan Island Resort includes four man-made islands with more than 7 kilometers of beaches and several large hotels, spas and golf courses. The resort expects to see 5 million visitors annually.
"Our collaboration with JW Marriott and our venture on Al Marjan Island represents a new chapter in our journey," Patel said. "With the demand for waterfront living on the rise, we are committed to optimizing and elevating the experiences of all our cherished guests and residents as we embark on this remarkable project in the UAE, set on the enchanting Al Marjan Island, a prime investment destination in the region."
Patel and Aman are partners in Memphis-based White Oak Group, with a portfolio of about 300 businesses including hotels, restaurants and gas stations across the U.S. Patel's parents, including his father Ramesh Motiram Patel, come from the Indian village of Baben in Gujarat state.
In addition, Patel is co-founder of Wealth Hospitality, formed in December 2019 along with his partner Chico Patel. Bruce was Tupelo, Mississippi-based Fusion Hospitality's CEO and Chico was CEO at Ridgeland-based Heritage Hospitality when the two companies merged in December.
Along with hotels, Wealth Hospitality develops multi-family and assisted living facilities. Its brands include Hyatt Hotel Corp., Hilton, Marriott International, Best Western Hotels and Resorts and InterContinental Hotels Group.
"It is a privilege to work with the prestigious JW Marriott and Al Marjan Island to unveil our flagship project in one of UAE's most eagerly anticipated developments," Aman said regarding the Al Marjan Island resort. "We are humbled by the opportunity to further enrich our portfolio in the luxury sector, and we extend our heartfelt gratitude to the government and leadership of Ras Al Khaimah and the UAE for their efforts in enhancing investments in the tourism, hospitality, and residential segments within the region."