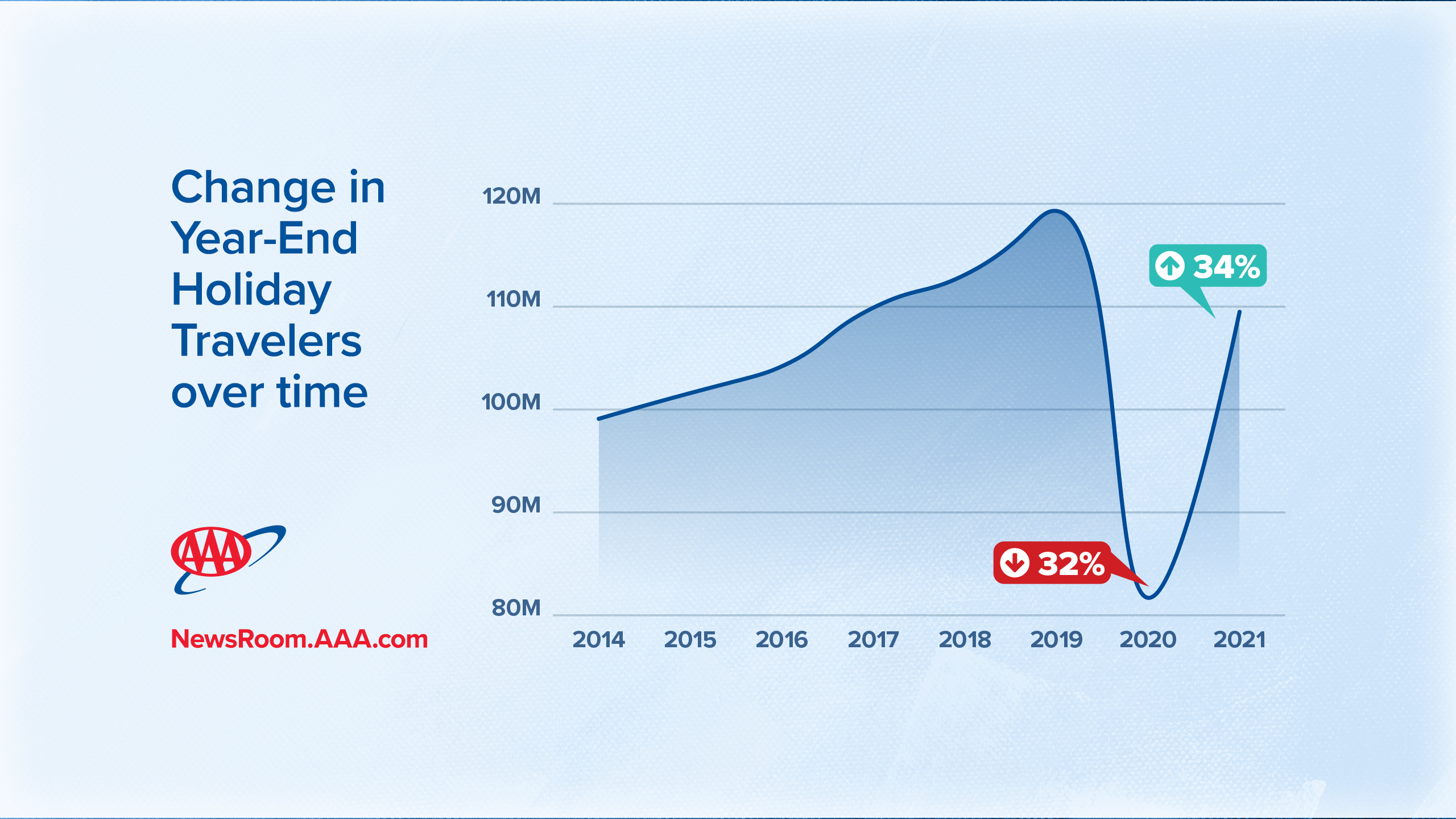 MORE THAN 109 million people are expected to travel over the Christmas and New Year's holidays, most of them on the road as gas prices drop, according to AAA Travel. The COVID-19 Omicron variant is having an impact, primarily to lower gas prices.
The number of travelers going 50 miles or more between Dec. 23 and Jan. 2 is a 34 percent increase from 2020, AAA said in its travel forecast.  That extra 27.7 million people traveling brings this year's numbers to 92 percent of 2019 levels.
"Americans who canceled their vacations in 2020 want to gather with family and friends for the holidays this year, although they will still be mindful of the pandemic and the new omicron variant," said Paula Twidale, senior vice president of AAA Travel. "With vaccines widely available, conditions are much different, and many people feel a greater level of comfort with travel."
As in years past, driving remains the most popular form of travel, with more than 100 million planning to get behind the wheel. More than 6 million people are expected to travel by air, while 3 million people are booking buses, trains and cruises.
Gas prices were $1.25 per gallon more than a year ago when AAA made its forecast. In late December, however, pump prices dropped to a national average of $3.30 as crude oil prices vacillated from concerns about the impact of the Omicron variant on the global market. The new average is 11 cents less than a month ago and $1.09 more than a year ago.
"A recovering economy coupled with strong employment is leading to increased demand for gasoline," said Andrew Gross, AAA spokesperson. "This demand increase should drive pump prices higher, but it's been blunted by the wavering price of crude oil."
Drivers also need to prepare for delays in many markets, AAA said. The travel agency expects to answer as many as 917,000 calls for help as many vehicles on the road may have been parked for most of the pandemic.
"With kids out of school and many Americans taking extended time off for the holidays, drivers will experience incremental delays throughout the week. Although congestion will be overall lighter than normal, knowing when and where major delays will likely happen will help save time and reduce stress this holiday season," said Bob Pishue, a transportation analyst at INRIX, which performed analytics for AAA.
While travel by all modes was up over last year, it remained down from 2019 levels when a total of 119.3 million people traveled during the same time period, 8.2 percent more than this year. The most dramatic increase between 2020 and 2021 is expected in the "other" category of mass transportation, buses, trains and cruises, which could see a 198.7 percent boost. Air travel is the second highest year-over-year increase, 184 percent, but both categories are further down from 2019 levels, with dips of 24.8 and 12.6 percent respectively.
Hotel rates for mid-range properties have increased 36 percent for AAA Approved hotels for Christmas travel. The average nightly rate for Christmas is $320 and $267 for New Year's Eve.
Top destinations this year, per AAA bookings, include markets with theme parks and beaches. The top 10 are:
Orlando, Florida
Anaheim, California
Las Vegas
New York and Kahului and Maui in Hawaii (tie)
Honolulu
Miami
Fort Lauderdale, Florida
Tampa, Florida
Phoenix
San Diego
AAA had predicted a surge of travel for Thanksgiving, predicting around 53.4 million people would take trips. However, a survey commissioned by the American Hotel & Lodging Association and conducted by Morning Consult predicted fewer people would travel for Thanksgiving and Christmas this year.