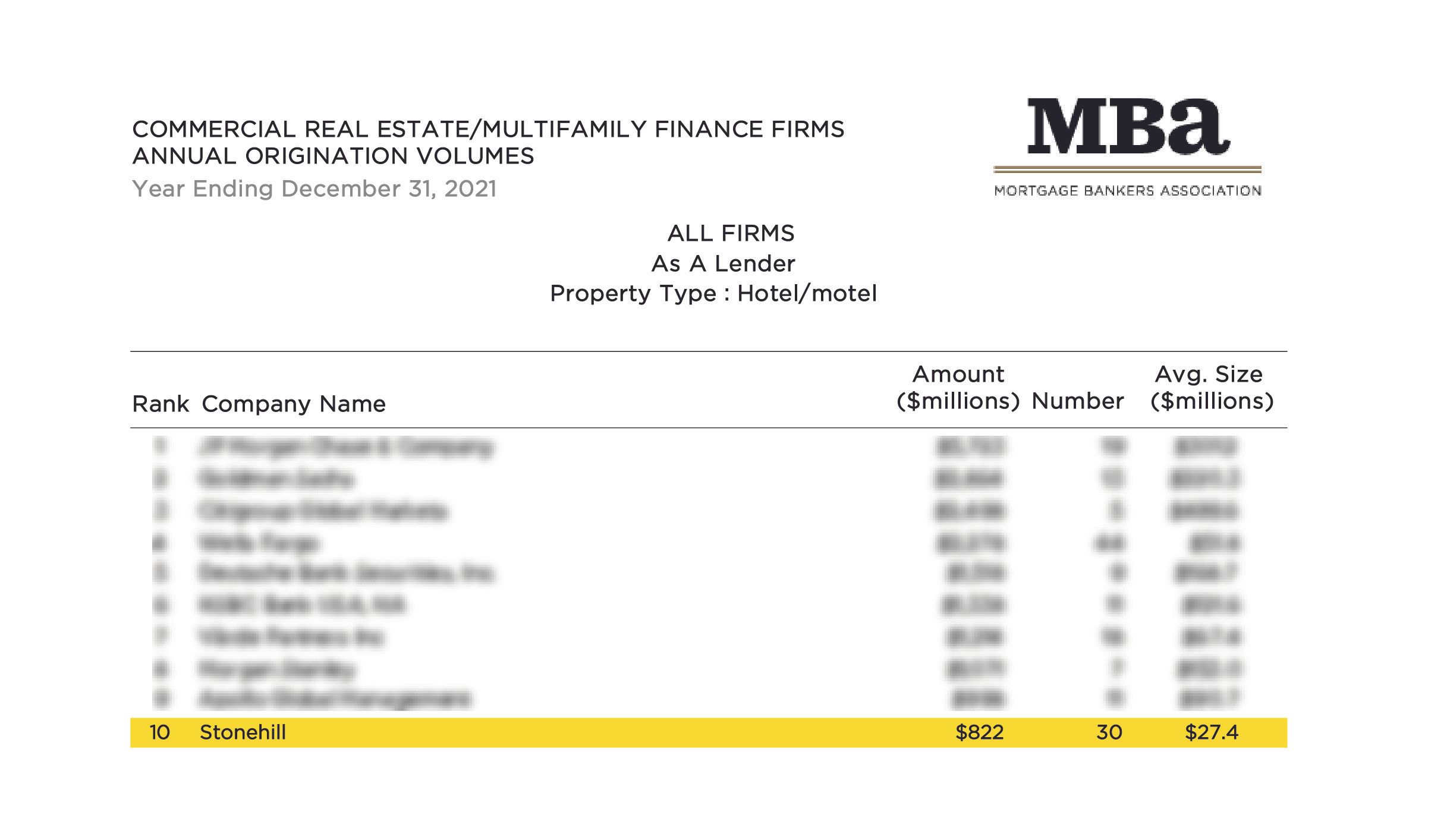 COMMERCIAL REAL ESTATE lender Stonehill is ranked as the 10th largest U.S. commercial real estate hotel lender by origination volume based on the 2021 Mortgage Bankers Association loan origination rankings. The ranking comes after the company originated $822 million in loans across 30 transactions in 2021 with an average transaction size of $27.4 million.
Stonehill is a subsidiary of Atlanta-based Peachtree Hotel Group, led by Jatin Desai and Mitul Patel, who are principals of Stonehill and Stonehill PACE, as well as members of the Stonehill's investment committee. MBA's annual originations rankings report is a comprehensive set of listings of 149 commercial/multifamily mortgage originators, their 2021 volumes, and their different roles.
"We are honored to be ranked in the MBA's leading industry list," said Mat Crosswy, Stonehill's president and managing principal. "Our top-ten position is a testament to our commitment to understanding our sponsors' business plans and accomplishing the transactions on their financial deadlines. We have a terrific opportunity to grow further as the hospitality industry is in a sustained recovery cycle. Hotel owners are looking for thoughtful options with capital partners that understand the industry's nuances, particularly considering the impact of the pandemic on hotel operators."
In February, Peachtree's Stonehill PACE subsidiary completed approximately $150 million in commercial property assessed clean energy (C-PACE) loans over the past 12 months. The loans can be applied to renewable energy and energy-efficient components and seismic retrofitting within the hospitality, multifamily, senior living, industrial and mixed-use real estate sectors.
"We effectively doubled our commercial property assessed clean energy originations last year, growing to more than $300 million," Jared Schlosser, senior vice president and head of Stonehill PACE, said previously. "While we are known predominantly for our lending activities within the hospitality arena, a large percentage of our 2021 volume was in other real estate asset classes."