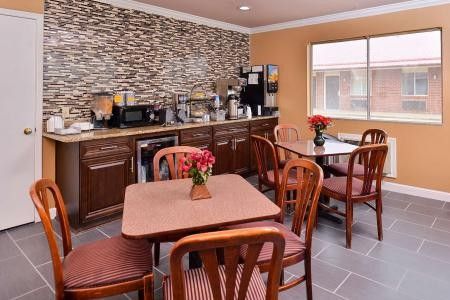 RLHC owners vote to upgrade breakfast brand standard
IT'S THE MOST important meal of the day. The axiom goes for weary travelers as well as hotels that offer free breakfast. The amenity draws business to hotels and allows owners to increase rates, say industry experts.
For that reason, hotel brands are constantly updating their morning menus to stay abreast of evolving guest expectations. In many cases, hotel owners and operators offer the free morning meal on their own, no brand prodding necessary.
In 2015, Vantage Hospitality Group franchisees voted in favor of breakfast becoming a brand standard. In December, during its brand conference of Vantage Hospitality Group franchisees, new owner Red Lion Hotels Corp. asked hoteliers to get specific with what they offer.
Franchisees can select from three options for the breakfast menu – a standard self-serve breakfast buffet, grab-and-go breakfasts in bags or a waiver if the hotel already offers a breakfast that is equal to or better than the standard.
The third option was proposed because some owners have leased space to an independent or chain restaurant for guests to use with special discounts. The second option addresses the space constraints of some members' hotel lobbies.
The overall goal is to create consistency throughout the brands. "You go to one property and there's a great breakfast, and you go to another and there's nothing," said Jordan Langlois, vice president of member and franchise operations for RLHC.
It's difficult to offer a specific return on investment with regard free breakfast mandates, but Langlois said it's really an issue of guest satisfaction.
Surveys from Hotels.com, J.D. Power and TripAdvisor show free breakfast is among the top three amenities hotel guests desire, Langlois said. "Because we know breakfast is so important to guests, a poor breakfast or no breakfast at all, will typically lend itself to poor reviews."
Positive reviews generate higher ADR. "In theory," Langlois said, "an Americas Best Value Inn property getting very positive reviews and raising its TripAdvisor score from below two to a three has a potential ADR increase of more than $10."
Hotel owners seem to like breakfast as much as the guests.
The updated standards are based on data gathered from several sources. Eric Scheiner, RLHC vending specialist, looked at RLHC's competition and their guest comments, and used specialized software to scan online reviews. "Anything with 'breakfast' mentioned got flagged, and we could review it," Scheiner said.
They wanted to develop a breakfast standard that is substantive and cost effective, he said.
RLHC also sought input from a franchisee steering committee. "Some of them were doing breakfasts that you would be willing to pay just to have what they were serving," Scheiner said.
Now that the standards have been passed, RLHC will begin to onboard the 20 percent of franchisees who do not offer any breakfast. Scheiner also is considering finding a single-source vendor that could provide cheaper food options for the chain.
Managing operational costs is important for every hotel, but those in the economy, midscale and upper midscale segments can be particularly sensitive to F&B standards that push the boundaries of limited-service. A recent study by CBRE Hotels America's Research shows costs for free amenities, including breakfast, have been steadily increasing.
---