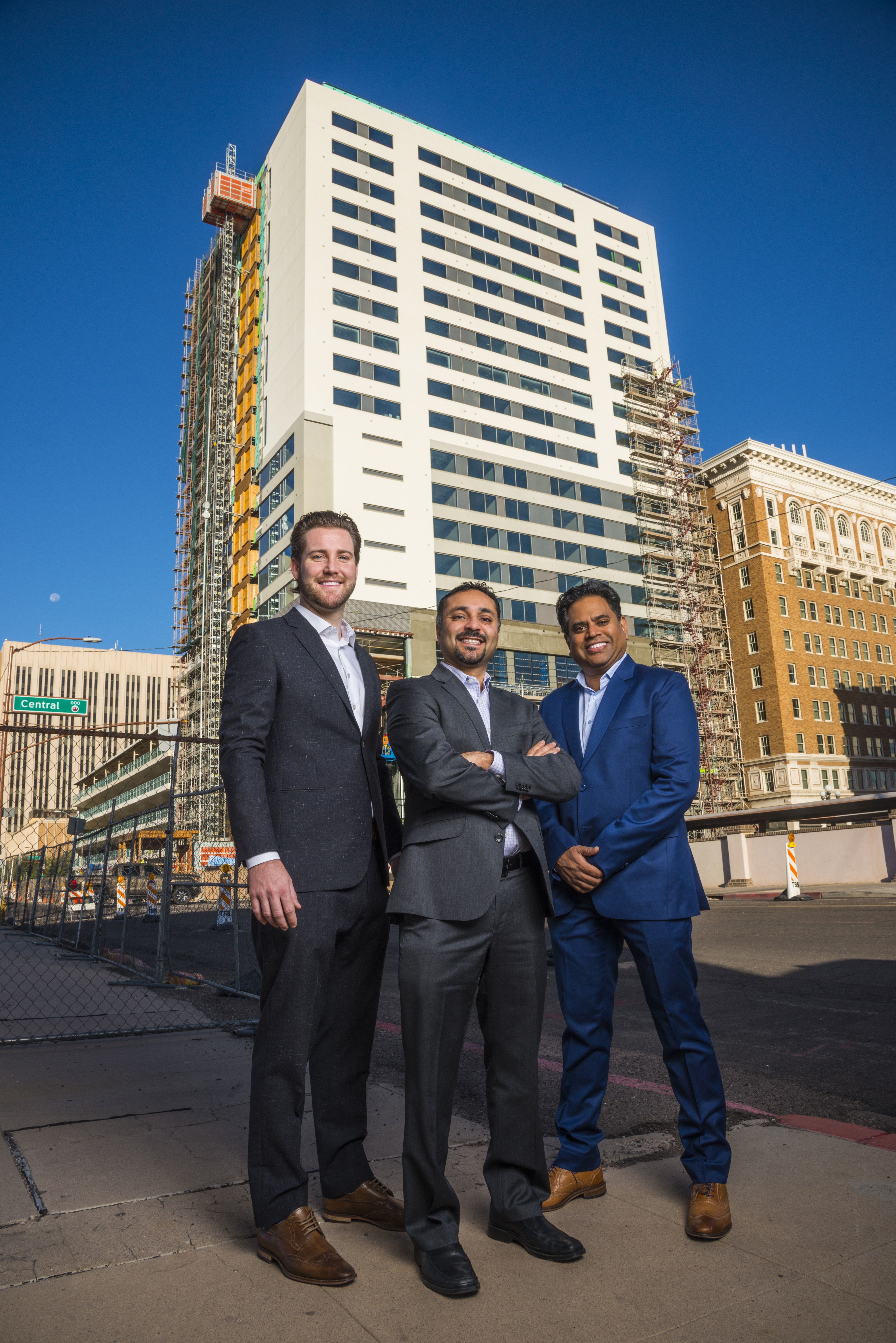 (Editor's Note: This article appeared in December's issue of Asian Hospitality. It has been updated to reflect current events and edited for online adaptation.)
IN OCTOBER, CONSTRUCTION crews set into place the final steel beam atop a 20-story hotel development in downtown Phoenix. The topping-off ceremony signaled a new phase for the Luhrs Marriott project, an $80-million, dual-branded hotel complementing the Luhrs City Center, a mixed-use project. More than a third of the hotel-development cost – $27.5 million – was financed through EB-5, a foreign-investment program.
The hotels opened on May 10, and the entire City Center project has generated hopes of a new tomorrow not only for downtown Phoenix but for hundreds of workers and 55 legal immigrants seeking a fresh start in the U.S.
Hansji Corp. of Anaheim, California, is owner and developer of the hotels and the Luhrs City Center. Rajan Hansji is president of the company founded by his father, Shirish Hansji, who started in 1974 with a 26-room motel.
The Green Card Fund, an EB-5 regional center in Phoenix established six years ago by Girish Patel, Dan Rama and Kyle Walker, is managing the foreign investment portion of the project.
EB-5 is short for Employment Based Immigration: 5th Preference, a foreign-investment conduit administered by U.S. Citizenship and Immigration Services. It has been around for decades – enacted by Congress in 1990 to encourage overseas investment in America through capital projects that create jobs and improve an area's economy. Since its establishment, EB-5 has generated more than $6.5 billion in foreign investment and created more than 130,000 U.S. jobs.
Regional centers are merely "borrowers" of EB-5 investors' capital; along with having to return the initial investment, owners are obligated to share any return on investment.
Today, the program faces challenges – including the threat of extinction. Several U.S. lawmakers have proposed abolishing the program unless significant reforms can be made to thwart fraud.
Trump Bump
The program was due to sunset on Sept. 30, the end of the federal government's fiscal year, but Congress extended it twice. On May 5, it was extended through Sept. 30 when President Trump signed the $1.1 trillion Consolidated Appropriations Act to fund the federal government. That legislation package includes the EB-5 program.
What ultimately happens to the program is anybody's guess. It has come under fire by lawmakers in recent years for lax enforcement and accusations of fraud. The latest salvo from opponents involves the family of Trump adviser and son-in-law Jared Kushner.
EB-5 has been used to generate $50 million in foreign investment in a 50-story luxury-apartment project in Jersey City, New Jersey, being developed by KABR Group and Kushner Cos.
Jared Kushner was directly involved in the $821 million project before taking the role as adviser to the president. President Trump is not personally financially involved in the project.
Representatives of Kushner Cos. recently visited Beijing and encouraged Chinese investors at a conference to help fund the project. Jared Kushner's sister, Nicole Kushner Meyer, referred to her brother and his new position at the White House in her pitch, according to news reports.
Spurred by Recession
EB-5 gained renewed attention about seven years ago when the Great Recession dramatically decreased lending capital for commercial real estate development. Under the program, foreign investors can ante up $500,000 or $1 million as part of the capital mix needed to build a job-generating project. In return for their monetary risk, the government grants U.S. green cards or permanent-residency visas to investors and their immediate family members.
EB-5 capital rarely entirely finances a project. It often closes a funding gap or is used as bridge financing. The funds come at a lower cost than traditional short-term construction loans, said Walker. Project owners or developers must return the investors' money within five years. A return on investment is a plus, but the real bonus is legal entry into America.
At the dawn of the 2009 economic downturn, Rama, a hotel investor, began looking beyond traditional lending methods to get his and others' projects built, which led to Rama's discovery of EB-5. In 2010, the three partners founded the Green Card Fund, a federally approved regional center that markets the opportunity throughout the world and manages the investments. It is one of 864 USICS-approved regional centers in the country and among 13 in Arizona.
The three also founded NewGen Worldwide, a holding company that owns hotels and brokers transactions of commercial real estate properties. NewGen Worldwide is the parent of Green Card Fund.
The Luhrs Marriott is the first hotel development for which NewGen has used EB-5 investment. Green Card Fund's first projects are not hospitality related – the capital was dedicated to build a school and a hospital. Besides the Luhrs Marriott, the center has channeled EB-5 money toward a senior-care center in Tucson and a museum project in Washington, D.C.
Walker calls it the "trifecta of investment" where foreign money helps finance hotels, schools and health-care facilities that each improve a community's economic well-being, its quality of life and creates well-paying jobs. To date, Green Card Fund has seen green cards go to 150 families and generate more than 2,200 jobs and $85 million for commercial development projects in economically distressed areas of Arizona.
Chinese Saturation
Green Card Fund has built distribution channels in China, Taiwan, Vietnam and India. It also has offices in Mexico, Taiwan, Indonesia, France, Nigeria and Canada. The firm is busiest by far in China. Walker said Chinese account for 85 percent of all EB-5 investors. That fact rankles some business and community leaders in the U.S. who say reform is needed to plug the tsunami of high-wealth Chinese buying their way to American citizenship.
The USCIS allows 10,000 EB-5 investors into the U.S. a year. Each country has an allotment. China annually surpasses its quota and can use unclaimed visas from other countries. With the program facing reform and even possible demise, applications hit record demand last year, creating a backlog of aspiring immigrants, reported the USCIS. The program received 17,691 applications in fiscal 2015, up from 11,744 in 2014 and 6,554 in 2013. At the end of fiscal 2015, nearly 22,000 investors had applied for the program, creating a backlog.
A regional center is a federally approved manager of EB-5 investment funds earmarked for a "targeted employment area" – a rural community or an area with high unemployment. The project seeking EB-5 investment must create at least 10 jobs for every $500,000. "At the end of the day, this is what we like about EB-5," said Rama, "It creates American jobs."
Direct EB-5 investment or money not earmarked for job creation must total $1 million. Direct funds are not administered by a regional center and do not have to meet a job-creation standard.
Fraud Allegations
EB-5 immigrant investment program has come under fire in recent years in the wake of allegations of fraud in which borrowers of EB-5 funds failed to use the money toward designated projects. Most recent and notorious is the Jay Peak case investigated by the U.S. Securities and Exchange Commission.
In April 2016, the SEC froze the assets of Jay Peak Ski Resort in Vermont and related businesses, alleging William Stenger of Newport, Vermont, and Ariel Quiros of Miami, Florida, used more than $200 million of EB-5 investor money to buy a private residence, pay income taxes and acquire an unrelated ski resort. The men raised $350 million from foreign investors to build ski resort facilities and a biomedical research facility in Vermont, said the SEC. The misappropriation of funds, said investigators, "put the investors' funds and their immigration petitions in jeopardy."
The Jay Peak case is among six EB-5 projects the SEC has filed suit against over the past two years. As a result, lawmakers in the U.S. House and Senate have proposed legislation that would require more transparency from EB-5 programs and shore up the integrity of the program.
Last February, Sens. Patrick Leahy, a Democrat from Vermont, and Charles Grassley, a Republican from Iowa, introduced S.1501 or the American Job Creation and Investment Promotion Reform Act of 2016. In June, the measure was referred to committee, where much discussion took place and the proposal was amended, doing little to advance the measure onto the Senate floor for a vote. Reportedly, the bill was about to transfer out of committee, but something occurred overnight that stalled its progress.
In September U.S. Reps. Bob Goodlatte, a Republican from Virginia and chairman of the House Judiciary Committee, and John Conyers, a Democrat from Michigan and ranking committee member, introduced a House version of the proposal, H.R. 5992.
The fact one of the largest and most visible EB-5 fraud cases occurred in Leahy's home state has put a bad taste in the senator's mouth for the program. In a letter posted on his website, Leahy wrote he would vote to reauthorize the program beyond Dec. 9, "but we should not extend it blindly."
Proposed Reform
While most of Congress agree the EB-5 immigration investment program needs reform, differences remain over the levels of transparency and oversight.
In a September news release posted on his website, Leahy said he has long championed the EB-5 regional center program. "I have seen its ability to generate investment and create jobs in distressed communities. But the program is facing some pressing challenges. Reports of rampant fraud and abuse raise serious concerns and threaten to cripple the program's integrity. The incentives Congress established to invest in high unemployment and rural communities are also routinely abused, undermining a core objective of the program – to spur growth and create jobs in underserved areas."
Rama of Green Card Center said he does not know if proposed reforms would grandfather current programs. If not, "it would produce an avalanche of losses."
Rudy Vetter, chief marketing officer for Green Card Fund, said the firm favors reform, including increasing the required investment via a regional center to $800,000. "We have never opposed that; we have even suggested it," Vetter said. "EB-5 has never seen a price increase since the program was established. In Europe, a similar program is more expensive. Canada has completely stopped its program. The U.S. has every right to raise the amount."
Redraw Boundaries
Vetter said he and the team at Green Card Fund also expect changes related to targeted investment areas, such as clearly designating markets in need. In New York City, for example, Hudson Yards, a large private development in Manhattan, is using more than $1 billion in EB-5 funds to build high-end condominium towers.
For its part, Green Card Fund was named Global Business of the Year for 2016 by the Global Chamber of Commerce. Its reputation has attracted the attention of project developers in Washington, D.C. Last spring, Walker was elected to the board of directors of Invest In the USA, an EB-5 trade association based in D.C.
From 2008 through August 2016, USCIS has terminated 62 regional centers, most of those closed this year. Rama said he does not foresee a flurry of centers popping up to fill the terminated center's markets. "It is a lot more difficult to become a regional center these days."