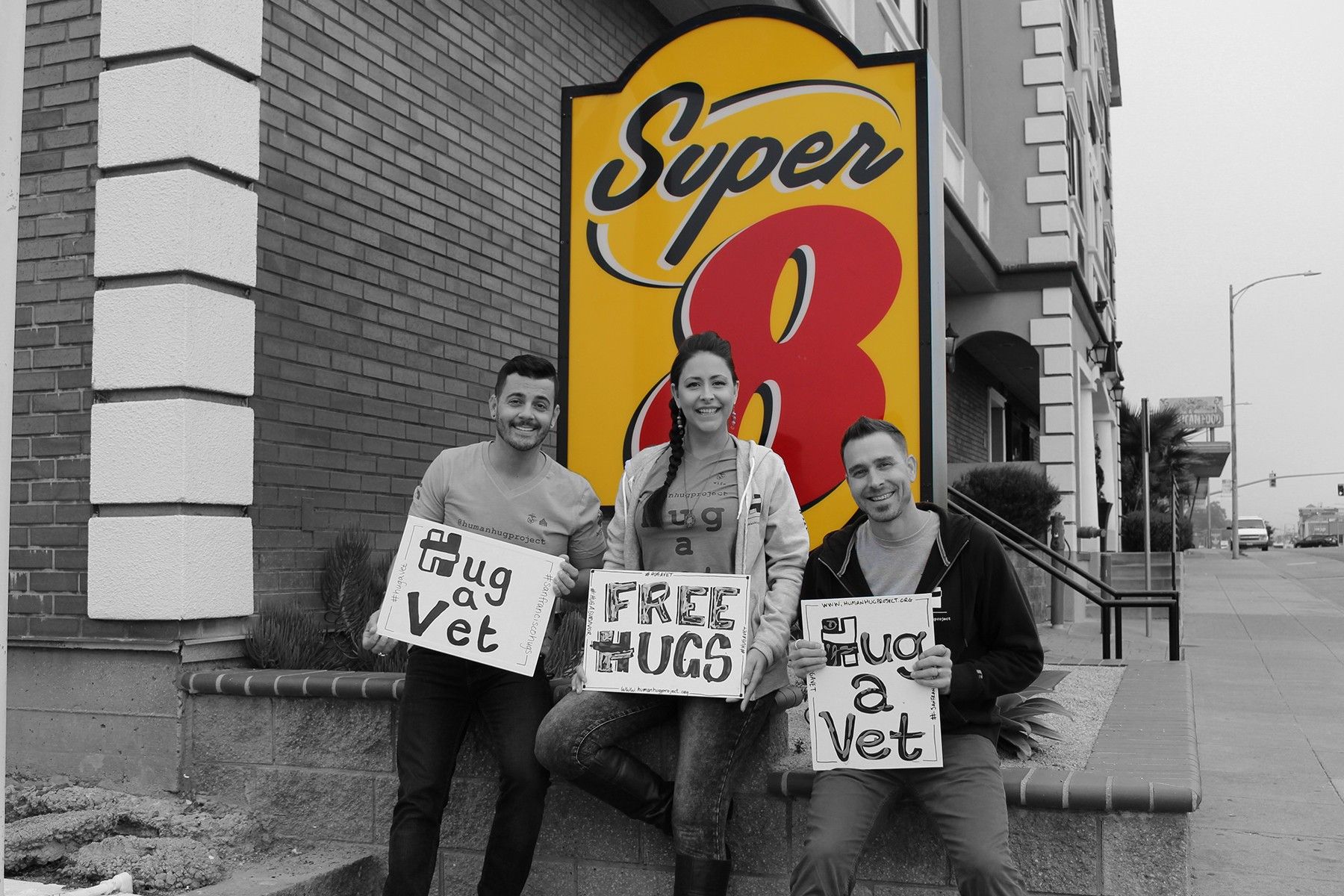 SUPER 8 IS an economy brand, but a few of its frequent guests are going lux on love to help U.S. military veterans who struggle with physical and emotional injury.
A brand of Wyndham Hotel Group, Super 8 has partnered with the Human Hug Project in recognition of Veterans Day, which is Saturday.
The Human Hug Project is a three-person team that visits U.S. Veteran Administration health care facilities to do one thing – hug a veteran.
Created by former U.S. Marines Ian Michael and Gino Greganti and his wife Erin Greganti, the group has traveled throughout the U.S. on its mission to thank military veterans and soften the hard psychological edges they may have developed while serving in war zones.
Since 2015, the three travel the country visiting VA hospital after VA hospital, connecting with veterans through the simple gesture of a hug.
As part of its efforts to expand its support of service men and women, Super 8 provides the Human Hug Project team with complimentary stays as they tour west coast VA hospitals.
Along the way, the brand captured their story, and recently published it as part of a new online docu-style series: Super 8 Stories: From the Road. 
Michael fought in Irag and Greganti in Afghanistan. They both have been diagnosed with post-traumatic stress syndrome and struggled to cope with everyday life after they returned from months of intense combat. Michael fought off thoughts of suicide and Greganti experienced blackout rages.
The trio believes and has documented numerous cases of seeing at-risk veterans' physical and emotional countenances change as they embrace them and let them know they are not alone. "When people are traumatized, fear is everything," said Greganti in the video. "The hug turns the fear off long enough to get back in touch with love."
"We're bringing awareness about post-traumatic stress while empowering veterans to tell their stories," Michael said.
Launched on Veterans Day last year, Super 8 provides reserved parking for veterans and service members at its hotels in the U.S. and Canada. This November, veterans and service members also receive a 20 percent discount on room rates. The brand offers service members a 15 percent rate cut year round.