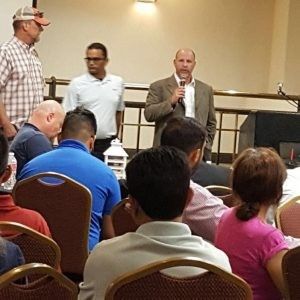 WHILE THE EXTENT of the loss caused by Hurricane Harvey continues to be sorted out in Houston and other Gulf Coast communities in Texas and Louisiana, the local hotel industry silently endures a little-talked-about phenomenon – problem guests.
In a time of crisis, this contingent is legion, putting unfathomable stress on hoteliers and significantly costing them in terms of wear and tear on the property and theft of supplies. Not to mention hours of lost sleep.
Hotelier Vikas Desai has decided to speak up as he has seen his 62-room property trashed by inconsiderate lodgers who expect luxury-level accommodations, amenities and service in a time of overwhelming crisis.
"It is hard because we want to help," he said. "But a lot of owners are suffering because conditions are so bad at the hotel.
"It's a really tough time for everybody."
More than 100 hotel owners turned out Tuesday evening at a town hall organized by Desai, regional director of AAHOA's Southeast Texas Region, and Hasu Patel, head of Houston's Small Independent Motel Owners Association or SIMA.
While most of the hoteliers attended the meeting to learn such things as how to file FEMA and business insurance claims, many took the opportunity to share their woes over the behavior of evacuees seeking refuge at their properties. Beyond the guests' unreasonable expectations, Desai said owners of branded properties have received little support from franchisers, who financially penalize owners when a guest complaint is not resolved.
Desai's Holiday Inn Express in Wharton, Texas, sits off Interstate 59. The 62-room hotel was booked full before the storm hit and flood waters surrounded the hotel. No one could get in or out for three days – Desai and his staff included.
Electrical power failed, access to water was cut off and the city turned off its sewer plant. Toilets on the first floor could not flush and residents were allotted limited rolls of toilet paper. Vendor trucks could not reach the hotel, so breakfast buffet items and stores of other food were limited. Still, some guests posted negative reviews on social media sites and in some cases, called franchisers' guest services to complain.
Hoteliers tell stories of guests lying about the number of people in the room, squeezing in eight to a dozen people in a room meant for four. They get angry when the hotel runs low on towels and clean linen.
Hotels that don't normally accommodate pets waived their policies, and evacuees came with cats and dogs, which add to the wear and tear on the rooms.
Dina Patel, owner of a hotel in Houston, said a group of eight people stayed less than 12 hours in one of her hotel's rooms but managed to damage the room and the towels. "The head of my housekeeping team said the towels cannot be restored, and the guests totally trashed the room." With limited staff on hand, it is difficult for housekeeping and laundry to turn around a room in time for the next guests to check in.
Still, Dina thought of her guests and brought organic milk from her home refrigerator when supplies ran low at the hotel.
Nimesh "Nick" Zaver, who has seven hotels in the Lake Charles, Louisiana, market said rescuers were dropping people off outside a property without checking to see if there was any room at the inn. "The evacuees expected the property to give them a room, but the hotel was booked," he said. "They wanted to camp out in the lobby and take over a meeting room. We could not allow that.
"People think hotels are shelters, but we are businesses," he said, noting hotels that are high and dry still need to accommodate regular guests.
Desai said most hoteliers are keeping their rates low and doing their best to accommodate displaced residents and out-of-town emergency crews by providing free rooms.
Hasu Patel said the city has asked hotels to provide rooms to people still holed up in the city's convention center. He said providing one or two rooms extra would go a long way in emptying the center of the 30,000 stranded residents. SIMA represents about 90 small hotel owners in Houston. FEMA also is looking for empty apartments and other residential alternatives for the evacuees.
Members of AAHOA and SIMA teamed up to deliver 44,000 bottles of water to the convention center, and SIMA has raised nearly $35,000 in relief funds which Hasu plans to give to the mayor on Saturday. "Our fund-raising target is $100,000," he said.
Meantime, Desai said, hoteliers whose properties are still flooded need financial assistance as they are expected to pay their mortgage loans and other business costs. He is advocating for some form of relief from SBA as well as state and local government – perhaps waiving property taxes for a time.
He would like franchisers to better support the owners as well. "This is something I will be working on in the future," he said. "When a disaster happens, naturally hotel rooms will fill up," he said. "We understand the situation, but what about understanding the hoteliers' situation?"
Hasu agrees. "When you give hotel rooms, it's very hard on your business, even though FEMA will eventually pay," he said.
The Texas Hotel & Lodging Association, FEMA representatives, insurance companies, claims adjusters and hospitality lawyers were on hand Tuesday to guide hoteliers through the maze of filing rules, requirements and timelines.
Desai said the region he serves has 900 members in south Texas and Louisiana. Desai plans to hold similar meetings in other areas of his region, including Corpus Christi, Port Arthur, Beaumont and Victoria, Texas, and Lake Charles, Louisiana.