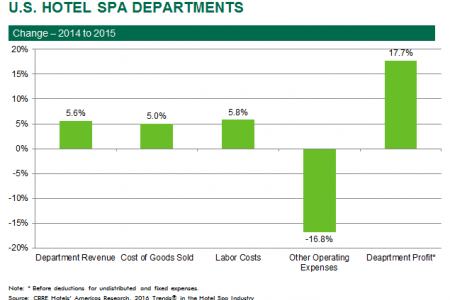 IN 2015, HOTEL spa department revenue grew at a faster pace than other sources of hotel income– including room revenue, according to CBRE Hotels' Americas Research's 2016 edition of Trends in the Hotel Spa Industry. The figures reflect a trend that hotels can use other operated department income to subsidize otherwise flat rooms revenue.
U.S. hotel spas were able to increase their revenue by 5.6 percent from 2014 to 2015, according to the report released Dec. 14. By comparison, room revenue for the properties in the survey sample rose 3.3 percent and total hotel revenue saw a 5.5 percent increase. This is the first time since the 2007 edition of the CBRE publication that spa revenue growth surpassed the growth in room revenue.
"CBRE Hotels' Americas Research is projecting modest gains in rooms revenue for the next few years as the U.S. lodging industry operates at the top of the business cycle," said Mark VanStekelenburg, managing director of the CBRE Hotels practice in New York City. "Therefore, hotel operators will need to look at other operated departments, like the spa, to accelerate the growth of total hotel revenue."
Spa revenue outpaced total hotel revenue at both urban and resort hotels in 2015, as well as in hotels with more than $1 million in spa revenue. Spa operations with less than $1 million in sales were the only properties where spa revenue growth lagged behind the increase in total hotel revenues. "Health and wellness is becoming an increasingly important component of everyday life. Though historically considered as an exclusively high-end hotel amenity, the integration of health and travel is now expected, at almost all hotels," VanStekelenburg said.
Hotel spa department profits also are increasing. In 2015, hotel spa department managers converted the 5.6 percent increase in revenues into a 17.7 percent boost in department profits.
Spa managers achieved the gains in profits by controlling expenses, according to CBRE. From 2014 to 2015, the combination of cost of goods sold, labor costs and other operating expense increased by just 2.1 percent. "Labor costs comprise approximately three quarters of operating expenses for a hotel spa. Because of scheduling challenges, spa department managers always have relied heavily on contracted employees," VanStekelenburg said. "We are starting to see other department managers increase their use of contract and leased employees to stem this rising cost within their departments."
Recent economic reports have indicated increases in retail sales, auto sales, building materials and health and beauty products, according to CBRE. "This is an indication that people are spending on themselves and bodes well for travel," VanStekelenburg said. "Additional research shows that travelers are mindful of their well-being when choosing their lodging. Hotels have an opportunity to take advantage of this trend not just by promoting their spas, but by offering other health and wellness amenities and services throughout the hotel."