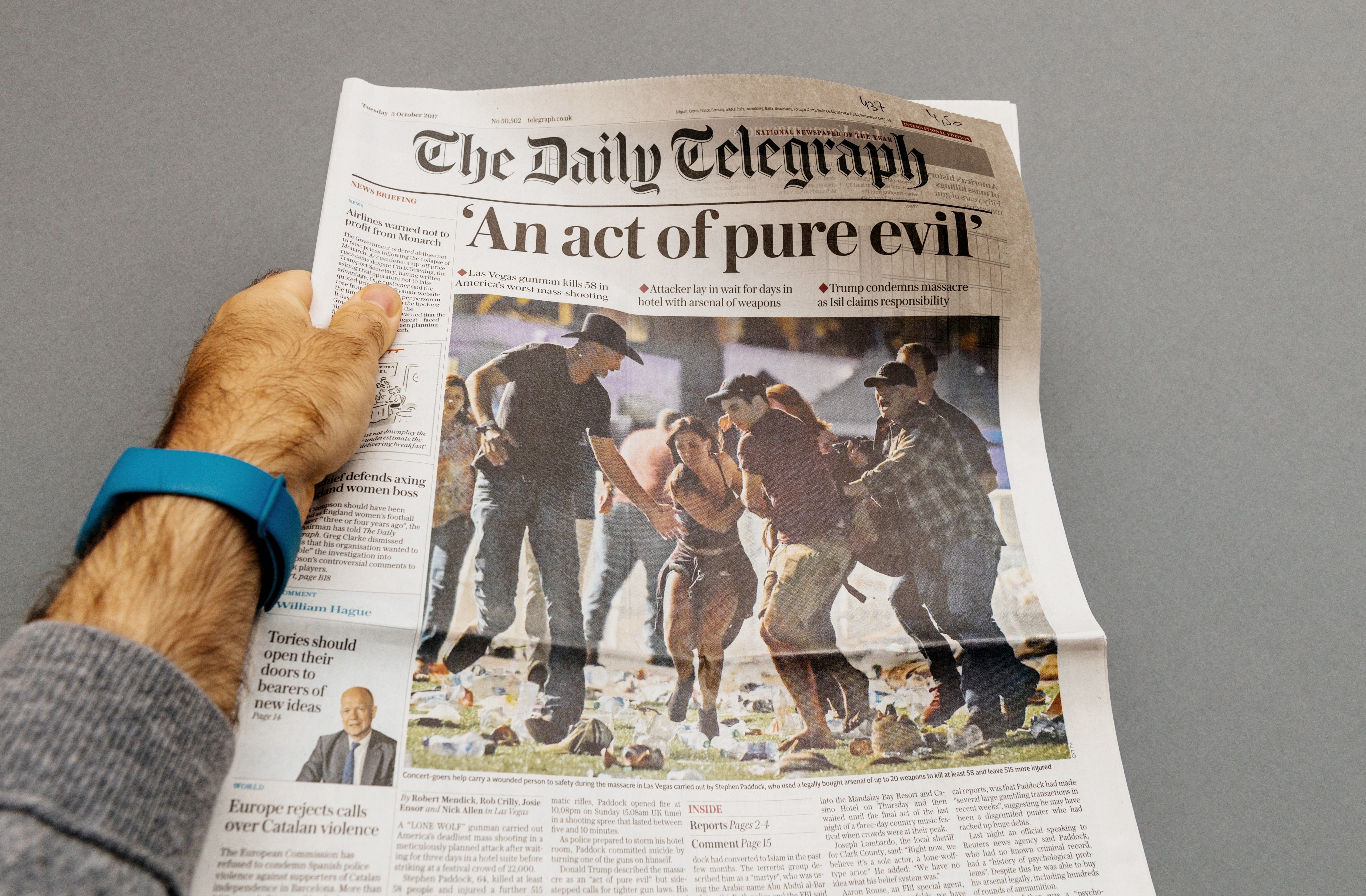 THERE'S A SAYING that's been circulating throughout the U.S. since the Sept. 11 terror attacks, and it's oft repeated after similar shocking attacks: If you see something, say something. But the mass shooting in Las Vegas more than one week ago has led many to question that approach with "How can you say anything if you don't see anything?"
That's why former police detective Robert Griffin wants to educate hotel employees in skills that will make them the eyes and ears of law enforcement. "You should be able to spot someone who's not normal," he said, adding that such odd behavior is not likely to be caught by front desk personnel, where suspects may be more cautious, but rather by housekeeping or other hotel staff. "They have to train their people to see something that doesn't fit."
Griffin now owns a small company in Dallas, Texas, that vends natural gas, electricity and credit card processing to hotels and other clients. Previously, Griffin served on the Henderson, Nevada, Police Department, near Las Vegas, where he worked undercover for six years, the last two of which he spent as a counter terrorism detective.
"I've don't a lot of work in the hotels as an undercover," he said.
Griffin also had friends at the Route 91 Harvest music festival on the Las Vegas Strip where 58 people died and nearly 500 were wounded Oct. 1 when 64-year-old Stephen Paddock fired his weapon from a room on the 32nd floor of Mandalay Bay Resort and Casino. His friends survived, albeit some with injuries, and Griffin has a plan to help prevent similar catastrophes.
Part of his previous job was to respond to suspicious activity alerts at the hotels, and there were many of them, Griffin said. He said hotel staff need to be better trained to notice things that seem out of place, such as a guest carrying a lot of extra luggage to their room. "I have personally carried tons of equipment into hotels in Vegas and nobody saw or said anything," he said.
Part of his training included the Pro-Active Terrorist Recognition and Interdiction Operations and Tactics System (PATRIOT) course, a week-long class on spotting suspicious behavior in a crowded space. It teaches law enforcement officers to establish a baseline of behavior and then honing in on individuals who deviate from that baseline. "You can teach that class in a civilian version," Griffin said.
The civilian version of PATRIOT is called Security Awareness and Vigilance for Everyone (SAVE) and Griffin is a certified trainer in both courses. He plans to approach hoteliers he knows to help them establish the course for their employees.
Vigilance is especially needed now in the immediate wake of the Las Vegas shooting, in light of the possibility of a copycat crime. "I think the education piece, given the times we're in, is crucial," Griffin said. "There are a lot of very sick people out there who like to have their names highlighted."
Mike Leven, former president and COO of Las Vegas Sands Corp., and founding member of the Asian American Hotel Owners Association, said previously that he had a lot of questions about what the hotel staff at Mandalay Bay could have, or should have, noticed.
For example, how was Paddock able to carry in 23 guns unnoticed and whether he behaved in a suspicious manner. "Did the bellhop carry his bags to the room? How many times did this guy leave his room and come back? Did housekeeping see anything – guns or cases? Were supervisors alerted? Did he hang a 'Do Not Disturb' sign on his door? If so, for how long?"
Hotels are particularly vulnerable as "soft targets" for lone attackers like Paddock as well as terror organizations, said Peter Tarlow, a speaker and expert specializing in the impact of crime and terrorism on the tourism industry and president and founder of Tourism & More.com. Attacks at hotels can generate a lot of publicity and many are not designed to handle modern violence.
Tarlow also said in a recent article that hotel staff should be trained to serve as "the front line of security." "This training may include everything from questioning why a 'do not disturb"  sign is on a room door for more than a few hours to notifying security if some seems or smells amiss," he wrote.
He also recommended close coordination between hotels and local law enforcement, upgrading the security industry and better screening for baggage. And while the Las Vegas massacre can provide insight, security personnel must look beyond it to see the next event instead of the last, Tarlow said.
"The bottom line is that what occurred in Las Vegas can occur in almost any city or resort around the world," Tarlow said. "All of us must be careful not to politicize a tragedy but learn from it and then seek to understand future problems and find ways to mitigate these risks with diligence and clarity of thought and purpose."