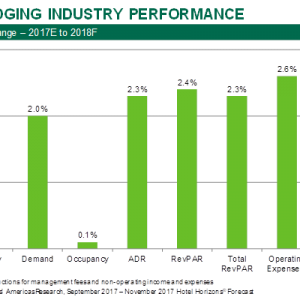 NEXT YEAR WILL see continued growth for the U.S. lodging industry, albeit slower than preceding years, according to CBRE Hotels' Americas Research's September 2017 editions of Hotel Horizons. Despite the rise in supply, other economic factors are expected to push occupancy and demand to match, CBRE's experts said.
CBRE is forecasting a 0.1 percent occupancy increase along with a 2.3 percent rise in ADR for 2018.  The net result is a projected 2.4 percent boost to RevPAR.  The slowing of the rise in occupancy, ADR and RevPAR is no cause for alarm though, said CBRE Senior Managing Director R. Mark Woodworth.
"The limited growth rates may be disappointing or even troubling for some industry participants.  However, 2018 will mark the ninth consecutive year of rising occupancy, something we have not seen since the 1990s.  While the slow growth in occupancy does indicate we are at the top of the business cycle, all factors indicate that we are in the midst of a record breaking, sustained period of prosperity for U.S. hotels," Woodworth said.  "Like occupancy, CBRE also is projecting a ninth consecutive year of growth in RevPAR, total operating revenue, and GOP in 2018."
CBRE also is forecasting a 2.0 percent increase in the number of available rooms for 2018, more than the 1.8 percent long-run average annual rate of supply growth previously reported by STR. While historically an increase in supply has preceded industry downturns, said CBRE Hotels' Americas Research senior advisor John Corgel said this time other economic factors are expected to counteract the supply issue. "Looking forward, employment levels and income gains are expected and remain attractive," Corgel said. "These movements will result in growing levels of demand and occupancy to counter balance supply growth."
Nevertheless, investors should pay attention to local markets that may still see effects from oversupply. Of the 60 major markets covered in CBRE Hotel Horizons, 50 are projected to see declines in occupancy next year due to supply growth exceeding demands. The disparity between projections for the national market and the major local markets results from a "skew in development activity," according to CBRE. Almost 90 percent of the new hotel rooms expected in 2018 will be built in the 60 Hotel Horizons markets. "Now more than ever, the 'street corner business' adage we've always touted applies to the hotel industry," Woodworth said. "It is very important to gain a thorough understanding of local market conditions when preparing hotel budgets for 2018."
Still, the aggregate occupancy levels for the 60 markets are expected to stay above 70 percent through 2021, and in 2018 52 of the Hotel Horizons markets are projected to see occupancy above their long-run average.  "Given such lofty occupancy levels, 49 of the Hotel Horizons markets are forecast to enjoy an ADR increase in excess of the projected 2.2 percent rate of inflation," Corgel said.
Growing profits in a time of slow revenue growth can be a struggle, Woodworth said. "If revenues increase at our forecast growth rate of 2.3 percent in 2018, then expense growth needs to be kept to something less than 3.7 percent in order for profits to rise," he said. "With the average hourly compensation rate for hospitality employees currently increasing at a pace of 4.1 percent, and labor costs comprising roughly half the costs of a hotel operation, you can see how the math becomes challenging."
Nevertheless, Woodworth said profit margins for U.S. hotels have grown each year since 2009 and in 2017 are forecast to be at their highest levels since 1959. "Given their track record, we believe hotel operators will once again control costs sufficiently to allow for profit growth in 2018," Woodworth said.