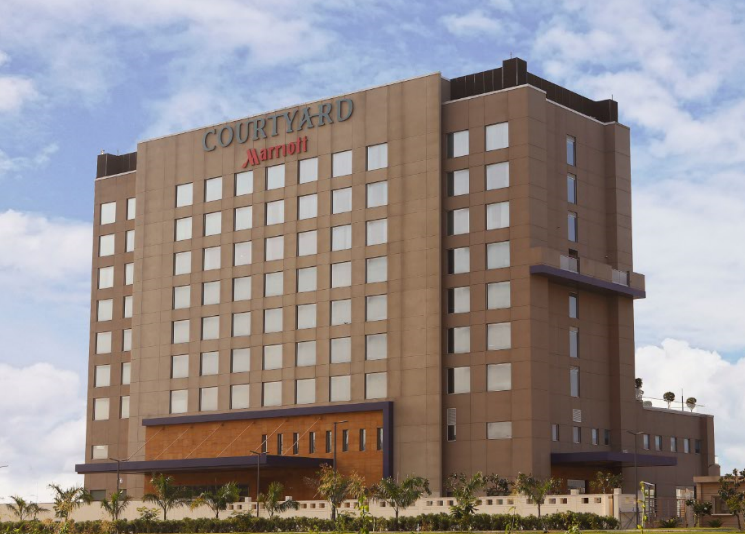 THE COURTYARD BY Marriott Surat in Surat, Gujarat, India, opened its doors this month, the fruition of a dream of HP Rama and his family's hotel business.
The 133-room full-service hotel is on the campus of Auro University, a college developed and funded by the Ramas in 2011. HP Rama is president of the university.
The school is near the village of Sarona in the Navsari District of the state, where HP and his four brothers grew up. Since meeting with business success in America, the Ramas have financed hundreds of thousands of dollars' worth of projects in Sarona, such as homes for the villages' farm families, an elementary school, a free health-care clinic, and water and sewage treatment facilities.
Village children can also compete for scholarships to Auro University, which has four schools: Hospitality, business, law, and information technology and communications. About 1,000 students are enrolled and 500 have graduated so far.
The Courtyard Surat is the first Marriott franchise to be signed in India. Students of the university's hospitality school can gain practical knowledge working at the hotel.
When it was first announced in 2013, the campus hotel was to be a Fairfield Inn. The Courtyard allows for greater innovation. It features a two-story lobby and contemporary guest-room design. Signature furniture and architectural elements replace traditional art in the guest rooms. The "LoungeAround" sofa offers a pop of color and a comfortable area for relaxing or working.
The hotel offers six suites, 26 luxury club rooms for long stays, and 101 deluxe guestrooms, all featuring luxury bedding, glass-enclosed showers and large HDTVs.
The lobby is open and bright, featuring media pods and a variety of seating zones that encourage and support pop-up meetings and social gatherings.
The hotel's food and beverage offerings are presented in four different venues. The Bistro – Eat. Drink. Connect. is the hotel's casual-dining restaurant. Café COCO on the outdoor patio specializes in exotic teas, coffees, mock tails, pizzas, sandwiches, burgers and local delicacies. The Charcoal, a barbecue operation, is by the outdoor pool. And The Market offers pastries and freshly baked breads.
Besides the pool, the hotel has a whirlpool spa and fitness center. It also has a guest laundry and 9,500 square feet of meeting space.
The hotel is owned by GJHM and operated by Auro Hotels, newly formed this fall when the former JHM Hotels of Greenville, South Carolina, divided the family business into four separate companies. GJHM also is developing a Marriott Hotel in Surat.