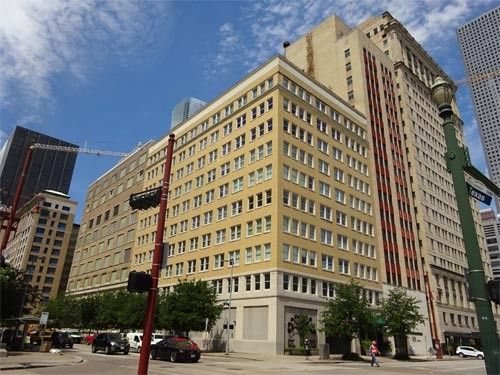 PRIDE MANAGEMENT INC. of Beaumont, Texas, has begun the transformation of a landmark office building in downtown Houston into a Hyatt Place Hotel.
The company co-owned by Ashwin "Anthony" Patel, president and CEO, and Nilesh "Nick" Patel, executive vice president, began construction in November on the 70-year-old Southwestern Bell Telephone Co. building.
Pride Management will operate the 16-story, 150-room hotel expected to open in March 2019.
The select-service property will be positioned to serve Houston's convention business, a goal of Central Houston. Bob Eury, president of the local organization, told Realty News Report the city needs 4,000 more hotel rooms to be counted among the top convention cities in the U.S. It currently has about 8,000 rooms.
Pride Management's Hyatt Place and two other projects in the pipeline are on track to surpass the targeted number.
Over the past few years, the city's hotels have weathered a downturn in the energy market and have struggled to come back in the aftermath of flooding in August caused by Hurricane Harvey.  Ashwin Patel said the hotels' average occupancy is at 80 percent. The city's medical market and downtown "are very strong and hold great potential," he said.
Hyatt Place hotel's rooms will be on floors 3 through 16. It will have a dining area, a rooftop bar, a pool and fitness center and 800 square feet of meeting space.
Pride Management was established in 1992 with a single hotel. In 1996, it developed a Holiday Inn Express, and has steadily grown. It has 19 hotels in Texas and Louisiana with several more in the pipeline.
The company has been busy over the past year, opening hotels and starting developments in Beaumont, Houston and other cities.
In January it opened a Staybridge Suites in Houston's medical center and stadium market, which it sold to Midas Hospitality in June.
It opened a Days Inn in Port Arthur, Texas, in February.
In October, Pride Management opened a Staybridge Suites in Houston's Westchase neighborhood.
Ashwin Patel said the company is about to break ground on a Home2 Suites in Beaumont, and in January will open a Holiday Inn Express in Lake Charles, Louisiana.
In 2014, Nilesh Patel received the Procter & Gamble Hotel Family of the Year award during the AAHOA convention. Ashwin Patel had served on the La Quinta Inns & Suites' brand advisory board for five years. The company has received numerous brand awards over the past few years.