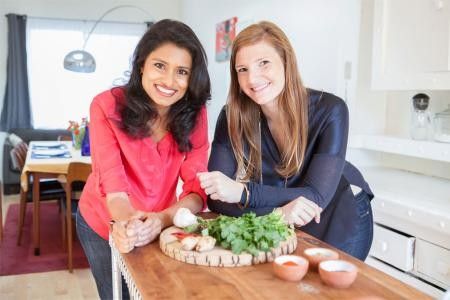 AN IDEA CAME to industrial design professional and food-and-travel enthusiast Aashi Vel during a trip to Mexico a few years ago. She was looking for authentic Mexican cuisine but could find only the Americanized menus at tourist restaurants and hotels. Then she drove past a house on her way to one of those restaurants.
"I just looked through [the resident's] window and saw her cooking, and I just had this experience of 'I wish I could eat with her,'" Vel said. From that desire, Traveling Spoon was born. It has been touted in Forbes, Condé Nast and other publications as one of the next best things in foodie tourism.
Vel and business partner Steph Lawrence established Traveling Spoon in 2013. Lawrence had had similar experiences in China, Vel said, where she found the most authentic meals were not to be found in institutions. Vel and Lawrence were classmates at the University of California Berkeley's Haas School of Business in 2011.
The venture finds and vets home cooks around the world to connect travelers with authentic dining experiences in local host homes. It's an immersive experience, one that today's travelers crave no matter where they go or why. Traveling Spoon's slogan is "Travel off the eaten path."
Besides dining at the homes with the hosts, guests learn about the region's culture and the history of each dish. They can also learn how to prepare the indigenous meals themselves in scheduled cooking classes. In addition, guests have the option of traveling with their hosts to local food markets where ingredients are purchased.
Traveling Spoon has hosts in 21 countries. Vel and Lawrence personally vet each host, who must apply and meet certain standards to be a Traveling Spoon location. The business also offers insurance to guests.
Today, concierges in hotels in Bangkok and Bombay recommend Traveling Spoon hosts to their guests, Vel said. "They're always looking to give their guests something new, something different."
Traveling Spoon has host families throughout Asia as well as parts of Europe and Mexico. "Our plan is to expand majorly in the U.S. in 2018," Vel said. It would begin its U.S. expansion in regions known for their cuisine, such as New Orleans and Charleston, South Carolina. The business women have explored other areas of the South and parts of California. "We've been uncovering some really unique cuisine in the U.S. that people don't even know about," Vel said.
Some of Traveling Spoon's current hosts include Roshni in Cochin, India. She and her husband are a Syrian Christians. They make seafood such as karimeen pollichathu, pearl spot fish marinated in spices and wrapped and roasted in banana leaves.
In Lamphun, Thailand, outside of Chiang Mai, home cook Nid takes her guests to the local fish monger to pick out the catfish for the evening meal. The monger takes a live catfish from a tank, kills it and wraps it on the spot. From there they go to Nid's mother's home on a farm on the outskirts of Lamphun where they "spend the afternoon sitting with Nid and her mother outside on mats, mincing catfish with a machete and making larb on charcoal fires," according to the host bios on the Traveling Spoon website.
The experience is all about learning about the culture to which you have traveled, Vel said. "What better way to learn than to talk over food?"
To fund the venture Vel and Lawrence sought financial support from angel investors. Contributors include former CEO of Expedia Erik Blachford, George Butterfield, First Round Capital's Dorm Room Fund, the Chennai Angels and Emily and Anjan Mitra, who own the DOSA restaurants in San Francisco, reports Tech Crunch. Bay Area food icon Alice Waters is also an adviser.
The hosts earn money, too. They set their own prices, and Traveling Spoon marks up the experience by 18 to 35 percent. Most of the hosts are women. Its website www.travelingspoon.com details how people can apply to become hosts.