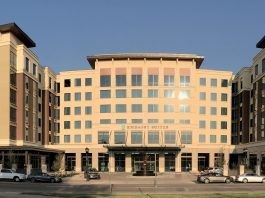 NEWCRESTIMAGE HAS OPENED its newly constructed Embassy Suites in downtown Amarillo, Texas.
The 226-room upscale property is across the street from the Amarillo Civic Center and next to the Globe News Center of Performing Arts. Also adjacent to the hotel is a 750-space parking garage.
The Embassy Suites Downtown Amarillo, which began construction in October 2015, is an ambitious public/private partnership between NewcrestImage and the City of Amarillo, notably three public entities:  the Amarillo City Council; the Amarillo Local Government Corp.; and the Tax Increment Reinvestment Zone.
The new hotel is part of a mixed-use development. Amarillo is in the process of acquiring a minor league baseball team. When the deal is closed in 2019, the city will construct a 220,000-square-foot multi-purpose event center on the other side of the parking garage.
"We have created an exciting new travel experience for our guests and a dramatic new signature building for downtown Amarillo," said Mehul Patel, chairman and CEO of NewcrestImage. "This property both fits in and stands out."
The Embassy Suites Downtown Amarillo has 18,000 square feet of meeting space; a 10,000 square-foot ballroom; an indoor swimming pool; and a high-end restaurant and lounge. Donna Paraliticci is general manager.
She previously managed NewcrestImage's Courtyard by Marriott in downtown Amarillo. The hotel opened in 2010 in the historic Fisk Building. The Texas Downtown Association named it the Best Adaptive Reuse project of the year.
Dallas-based NewcrestImage owns and operates a portfolio of 23 hotels, with another 10 under construction or in development in such cities as Dallas, Cincinnati, New Orleans and Houston. The company has three divisions: real estate development; construction; and hotel management.