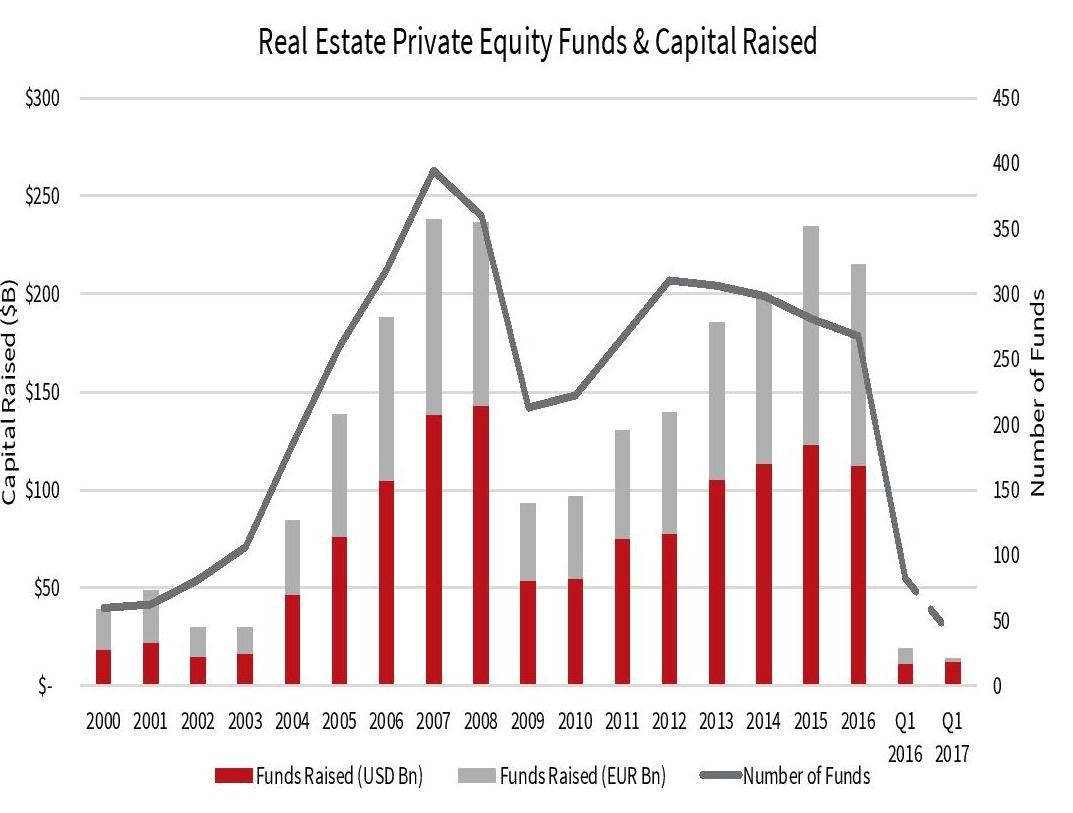 THE U.S. HOTEL industry remains stable at 2017's halfway mark, with private equity making up most of the investment along with REITs and foreign entities, according to JLL Hotels & Hospitality Group's Mid-Year Market View: The State of the Lodging Industry released this month. The report also predicts further growth for the U.S. GDP that will secure future growth for the industry due to expected pro-business federal legislation.
Favorable risk-adjusted returns have drawn private equity capital to the U.S. lodging market, according to the Mid-Year Market View. The funds invested $2.3 billion in the first five months of 2017 and made up 30 percent of the $8 billion of total U.S. hotel transactions for YTD May 2017. JLL expects private equity to continue as a "prominent acquirer" for the rest of the year.
There has been some slowing in the market since 2016, when 525 private real estate funds raised more than $225 billion in capital, an all-time high, according to the JLL report. The funds' activity declined in the first quarter of 2017, raising $15 billion in capital compared to $26 billion in the first quarter of 2016. "Although the momentum may be slowing, funds closed since the start of 2013 have raised more capital than those closed in the 2006-2008 period. [Levels in] 2017 are expected to be in line with 2016 levels or slip moderately," the report states.
Public REITs have become more active investors, driven by positive economic indicators such as global middle class growth and low unemployment as well as optimism regarding RevPAR growth over the next year, according to JLL. REITs acquired more than $1 billion in hotel assets through January through May, accounting for 16 percent of total volume during that time period compared to 6 percent for the same period in 2016.
Foreign investment made up 25 percent of volume through May, 4 percent higher than the same period in 2016. Despite a decrease of about 14 percentage points from last year by investments from mainland Chinese, Asian investors overall provided the largest proportion of off-shore investments in the U.S. market (47 percent as of May as opposed to 61 percent at the same time in 2016). European investments made up 38 percent, an increase from 25 percent last year, and Middle Eastern investments made up 4 percent.
JLL said the U.S.'s low unemployment, strong stock market performance and the potential for tax reform and infrastructure spending lead to predictions of continued robust growth.  Increasing terrorist incidents in Europe and global political instability have contributed to a perception of the U.S. as a safe haven for investment. While other nations, including India and China, are expected to see more growth than the U.S., they also face challenges such as demonetization and poor consumer activity that increase their potential for risk. "Looking ahead, the U.S. is expected to observe GDP growth above 2 percent in 2017 and 2018," the report states. "Despite the fact that this performance places the U.S. in 7th place behind [some other] countries, the U.S. stands to benefit from a greater sense of economic stability anticipated from the current administration's pro-business policies and proposed corporate tax changes."