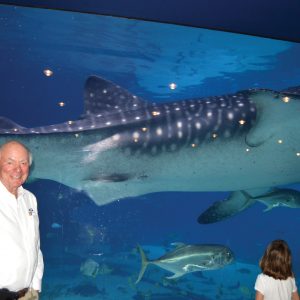 MIKE LEVEN HAS two business cards. One that identifies him as chairman and CEO of the Georgia Aquarium and another with "Almost Retired" printed under his name. Soon to be 80, Leven has no immediate plans to slow down his involvement in the hospitality business. If one thinks heading up one of the world's largest aquariums does not fit the industry profile, Leven counters the notion by describing the facility as a "hotel for fish."
Asian Hospitality visited Leven at the Atlanta aquarium to catch up on his life since he "retired" as president and chief operating officer of the Las Vegas Sands Corp. in December 2014 and from its board of directors more than a year ago.
Leven has had many unique experiences over a 53-year career, including owning a hotel franchising company, serving as president of several well-known chains such as Holiday Inn, and rescuing the Sands Corp. from financial trouble when it nearly defaulted on a half-billion-dollar debt.
But for all his storied accomplishments, Leven said there is only one he considers truly worthy of recognition – co-founding AAHOA nearly 30 years ago. "It's the most important thing I've ever done, without question."
Leven was president of Days Inn in the late 1980s when he met HP Rama, founder of JHM Hotels in Greenville, South Carolina. Leven, who is Jewish, joined forces with Rama to establish AAHOA. Few vendors exhibited at the first convention and about 100 hotel owners attended. Compare that to April's conference in San Antonio with drew nearly 500 exhibitors and more than 6,000 attendees.
"When the opportunity comes to make such a significant impact for so many people, the satisfaction is a lot different than running a successful company," Leven said. "AAHOA is far more important to me and in my life than anything else I have done."
Turn-Around Expert
Leven returned to the Georgia Aquarium in January 2015 after working for Sands for more than six years. He was part of the original team that worked to bring the 8.5-million-gallon zoo to Atlanta 12 years ago. Today he is a volunteer CEO and chairman of the aquarium at the behest of Bernie Marcus, co-founder of Home Depot who had the vision for the aquarium. It cost $300 million to build, almost all of it Marcus's money.
Leven served as CEO in the early years of the aquarium before Adelson asked for his help at Sands. His stint with Sands was supposed to be for two years, but it was extended to six as Leven continued to guide its growth. Acting as COO, Leven squeezed excess costs from the operation while Adelson's $1 billion cash injection righted the ship. "It enabled us to move forward," Leven said.
It was Marcus who asked Leven to return as CEO of the aquarium. He works part-time, splitting his year between Atlanta in the spring and summer and Boca Raton, Florida, in the cooler months. He has long served on the board of the Marcus Institute.
Leadership Strategy
Leven said being chairman and CEO of an aquarium is a lot like overseeing any other company. The key is to hire the right people, inspire them to work creatively together and motivate them to execute on planned strategies that sustain and generate new business.
The first year the aquarium opened, it did a high volume of business. But like any other entertainment venue, without ongoing upgrades attendance declined and so did revenue. Leven improved its business while CEO the first time around. "Profitability comes from different sources," Leven said. "But if you don't have gate, you don't have income. We have to come up with ways to get people into the building."
While in the driver's seat in 2008 and 2009, the aquarium increased revenue, but during his Las Vegas years, the venue's bottom line began to sag. Besides wanting to help Marcus, Leven said he did not want to see the aquarium deteriorate.
Leven said his core competency as a leader is his ability to manage a team and "get them all on the same game plan." The administrative or business side of the aquarium and the science or "fish" side were not on friendly terms two years ago, but today they each have a better understanding and acceptance of their roles in keeping the venue a first-rate experience for visitors and a leader in sea life studies and conservation. "I have been putting silos together my whole business career," Leven said.
New Ideas
Attendance was below 2 million a year when Leven asked the team to come up with a new exhibit that would draw spectators. "When I came on board they were planning to build a $24 million turtle exhibit. I asked if it would attract more people to the aquarium, and they said no, but it would be a nice exhibit. I said nice is not good enough. So, we spent twice as much and got the sea lion exhibit, which has been enormously successful. It brought in 200,000 more people a year." More than half (60 percent) of the aquarium's annual visitors are from out of town, many from other countries.
In the entertainment world, you have to come up something new to maintain and grow interest. "Every year has to be different," Leven said. "I have a group of people now who are not satisfied with the status quo. I like to challenge them. Companies get stale when they are successful. They have to strive to make changes when necessary to keep from getting stagnant, and you can only do that when you have a decent relationship and trust among the people you lead."