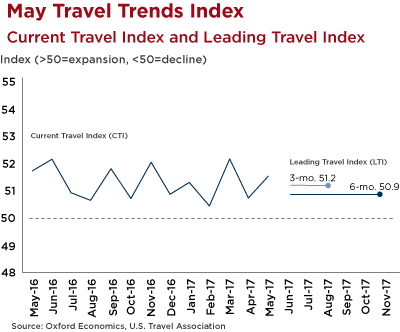 DESPITE CONCERNS ABOUT recent U.S. immigration policies, a strong dollar and slowing global economy, international travel to the U.S. continues to grow, according to the U.S. Travel Association's latest Travel Trends Index. In May, the number of visits to the nation from foreign travelers posted its 13th month of growth.
International travel to the U.S. grew 5.2 percent in May versus the same month in 2016, according to USTA's index. It also rose 6.6 percent from April, the first month of data to fully reflect effects of President Trump's proposed ban of visitors from six (originally seven) majority-Muslim countries. That ban had been blocked by federal courts but the Supreme Court, in a slip opinion on June 26, partially lifted the suspension of the ban's implementation while it continues its review.
"Tourism marketing efforts at the federal, state and local level undoubtedly deserve a large measure of credit, and policymakers need to be aware of the large dividends these programs are paying for economic activity, jobs and tax revenues," said USTA President and CEO Roger Dow.
Strong business and leisure domestic travel also boosted overall travel growth, according to the index, with leisure leading business in that market. USTA predicts overall travel will grow another 1.8 percent through November and domestic travel will lead the U.S. market until the end of the year.