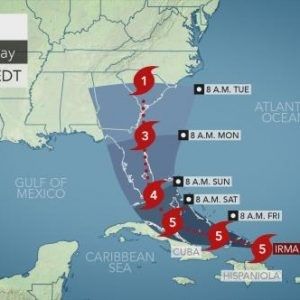 WEATHER OFFICIALS EXPECT Hurricane Irma to hit Florida on Saturday. While Gov. Rick Scott has declared an emergency in all of the state's 67 counties, many residents and visitors booked hotel rooms in the north and northcentral areas of the peninsula.
"Unfortunately, there is no way the United States is going to avoid another catastrophic weather event," Joel N. Myers, founder, president and chairman of AccuWeather said this afternoon in an AccuWeather news report.
"There will be massive damage in Florida. [It will be] the worst single hurricane to hit Florida since Hurricane Andrew in 1992," Myers said.
The current track of Florida will bring the most severe impacts to the eastern side of the state, including Miami, West Palm Beach, Melbourne, Daytona Beach and Jacksonville. Tropical-storm-force conditions could be felt as far west as Tampa and Key West.
To help hotels prepare to receive evacuees, the Florida Restaurant & Lodging Association's website has links to a FEMA site where hoteliers can enroll their properties in the government's Emergency Lodging Assistance program.
Hotels enrolled will receive prompt lodging payments for offering short-term stays to qualified displaced residents, said Corporate Lodging Consultants, a federal government contractor that administers the program.
FEMA opened the same program in Texas before Hurricane Harvey made landfall.
The ELA website instructs hotels "insure all guests are eligible to receive assistance before issuing them a room. Not every guest is given assistance through this program and room charges for these guests will not be covered through this program."
Al Patel, CEO of Baywood Hotels, which has several hotels in Florida, said it has hotels in Miami Beach, an evacuation "red zone." The company will close the hotel on Friday and shut off gas, water and electricity, except for the power that operates the sump pump.
Another Baywood-owned hotel in Miami's Brickel neighborhood sits atop a first-floor parking garage, so Al hopes water will not reach the hotel.
Baywood has several hotels near the Miami International Airport, and Al said those are full. The buildings were constructed after Hurricane Andrew, a powerful storm that devastated south Florida and led to stringent building codes for homes and businesses.
To better serve guests in the airport hotels, Baywood ordered extra amounts of food and other items to better serve guests. "We are preparing for the worst, but hoping for the best," he said.
The Red Roof Inn & Suites in Ocala, Florida, is booked. Dipak and Rita Patel own the 63-room property, but were unavailable for comment. Nicole Archer, front desk agent, said traffic was bumper to bumper on nearby Interstate 75 on Sept. 7 as residents fled in advance of the storm. Ocala is about an hour's drive north of Orlando.
JHM Hotels has nine hotels in Florida, several in the Miami area. Heather Meadors, director of communications for the Greenville, South Carolina-based company, said a conference call with property managers this morning focused on "the emergency plans we have in place and how to best serve our guests and keep our employees safe."
JHM's hotels in Orlando are booked full and hotel employees plan to stay at the hotels to keep them running, Meadors said.
Throughout its southeast market, JHM is "experiencing a lot of movement" in bookings, she said. "You can just tell that people are very much up in the air about their plans. There is so much uncertainty surrounding this storm. One minute someone cancels a reservation and the next minute someone books."
Many of JHM's hotels in Greenville cater to business travelers, and that includes groups. Many meeting planners remain hesitant about canceling an event planned for later next week. "Hurricanes are so unpredictable," Meadors said. "We hope and pray Irma turns east and goes out over the ocean."
Navroz Saju, president and CEO of Hotel Development & Management Group in Ocala, Florida, has 12 hotels in the state. Most of the properties are in north central Florida, and those have filled up fast. "In terms of sheer evacuation, this is one of the largest I have witnessed in more than 25 years in business," Saju said.
Two of HDG's hotels are along the coast – in Titusville and DeLand. "We are very, very concerned about the staff," he said, noting the hotels are about a two-hour drive from HDG's headquarters. With traffic-clogged roads, it is impossible to drive to them. "We have been talking over the phone and helping them prepare."
HDG's properties have been rained on and windblown before, but Saju knows how quickly an event like a hurricane can turn bad in a hurry. "It's very unpredictable, and things can change in a matter of minutes." In March 1993, the family business was devastated when an historic "storm of the century" hit Florida. A tornado touched down along Interstate 75 in Ocala and caused extensive damage to their motel, the company's first property acquired by Saju's parents in the 1980s. "It's a very sobering event, that's for sure," said Saju.
Meantime, HDG and its hotel employees are doing the best they can to serve guests who don't really want to be there. "What we can control with the guest is to make sure certain things are taken care of such as their pets and their luggage," Saju said. "We are being very flexible on our booking and cancellation policies as well as being generous with F&B."
He noted Florida has a large elderly population and some guests have health care needs that require such equipment as oxygen tanks and wheelchairs. "We are being as nice as possible."