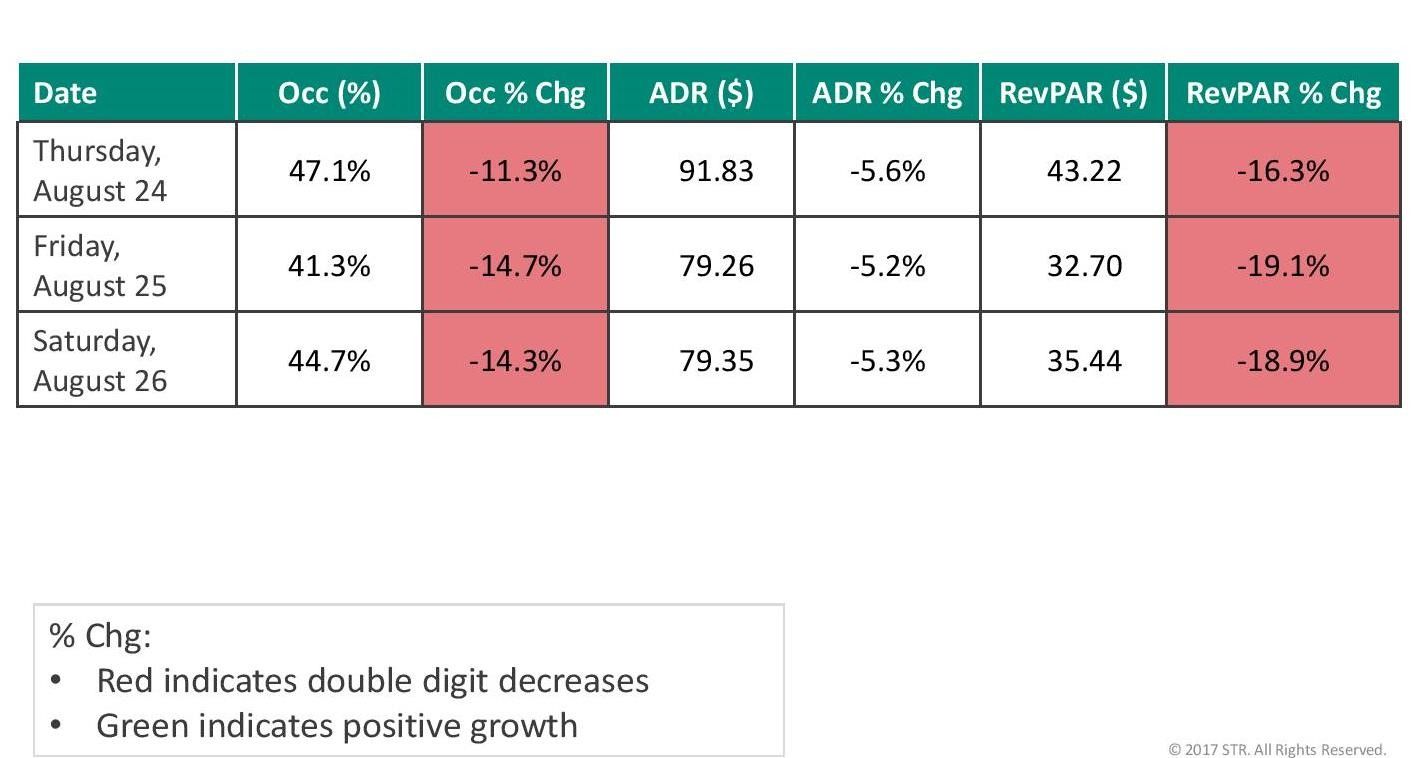 HOUSTON AREA HOTELS saw steep losses in occupancy, ADR and RevPAR as Hurricane Harvey came ashore more than a week ago, according to STR. And the effects of the storm could have ramifications for the entire U.S. hotel market, one STR expert said.
On Aug. 24, one day before Harvey's initial landfall, Houston hotels' occupancy rate was 47.1 percent, down 11.3 percent from the same day last year, according to STR's initial impact report. ADR stood at $91.83, down 5.6 percent and RevPAR was $43.22, a 16.3 percent drop. By the next day, occupancy had dropped to 41.3 percent, ADR dipped to $79.26 and RevPAR to $32.70. The day after landfall, occupancy rose slightly to 44.7 percent, ADR stayed mostly stable and RevPAR increased by a little less than $3.
Over the course of the storm, according to the report, occupancy rose quickly at inland Texas hotels as it naturally dropped on the coast.
Overall, Harvey could eliminate a year's worth of gains in hotel room growth, STR Senior Vice President for strategic development Jan Freitag said at Southern Lodging Summit in Memphis, Tennessee, according to The Commercial Appeal newspaper in Memphis. He said the nation may see the same effect on the hotel market it did after Hurricane Katrina.
"Katrina was so strong that on a national level we saw a decline in room supply, which we've never seen before," Freitag said. "Always goes up. Always building more rooms. But the impact of Katrina was so strong, and I'm very, very curious to see what Harvey does."
If Harvey's impact on Texas is comparable to Katrina's, "the U.S. supply number's going to decrease by 2 percent. There is a potential …that Harvey wipes out all the new rooms that we've added this year. Mathematically, not the actual rooms," Frietag said.
STR's 2018 projections call for revenue per room.
Freitag said STR's forecast of a 2.1 percent increase in room supply and a 2.3 increase in RevPAR is "probably going to be wrong, now that Harvey…"
"I did some quick and dirty math and there's a very high likelihood that room supply in the United States is not growing as quickly as we had projected, just because of the impact on the hotel space in Texas and now unfortunately, Louisiana as well," Freitag said.