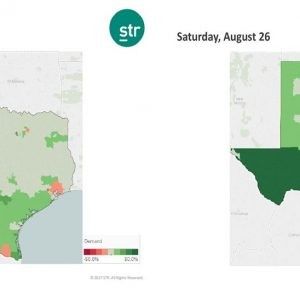 AFTER YEARS OF STRUGGLING, Houston hotels may see a record-breaking surge in occupancy – and eventually rate – as the city and surrounding communities recover from Hurricane Harvey.
A special report by Marcus & Millichap, released today, said more than 200,000 homes were destroyed in the epic flood after rains dumped more than 50 inches of rain on south Texas Aug. 25 through 29.
Reminiscent of Hurricane Katrina, which flooded New Orleans in August 2005, "families will be forced to relocate, finding temporary housing options in local and regional hotels and apartments," said the report, authored by Jessica Hill, a market research analyst.
"Normally, at this time of the year, hotel occupancies in Houston average 59 percent. Following Katrina, hotel occupancy rates in New Orleans surged to roughly 80 percent for the following seven months."
While hotels are managing to hold rates as low as possible for the time being, prices will begin to increase in hotels in Houston and throughout the state.
Displaced residents also will move into apartments, an industry that saw a spike in new construction over the past five years. Of the 80,000 apartments built in metro Houston since 2012, an estimated 55,000 were vacant before Hurricane Harvey struck.
"Still, available housing will likely fall short of demand," writes Hill. "Some residents may look beyond the Houston metro, boosting demand for hotels and apartments in other Texas metros, including Dallas/Fort Worth, Austin and San Antonio."
The regional economy will face short-term weakening as damage is assessed, FEMA is mobilized, insurance policies are reviewed and recovery strategies are defined, noted Hill.
In an interview today with Asian Hospitality, a lawyer specializing in the hotel industry, said it may be months before insurance claims adjusters can make their way to assess every hotel damaged in the storm.
Pimal Patel, an attorney with Farrell & Patel*, said he is concerned insurance carriers do not have enough claims adjusters to handle all the cases, especially considering the toll taken by wildfires in the Northwest U.S. and Hurricane Irma, which hit Florida and Georgia from Sept. 8 through today.
"The bigger issue with Harvey is hoteliers who don't have flood insurance," said Patel.
For those who do or for those whose hotels were damaged by wind and other elements, getting a claim settled may prove to be a major hurdle to getting back to business as usual. "My experience with Hurricane Ike, which hit Texas in September 2008, was insurance companies were inundated with claims and could not keep up," said Patel.
The result, he said, was insurance carriers not fully inspecting damage and therefore not paying in full. "That's also my concern today."
A revised law in Texas gives insured 10 percent more in a claims payout if the insurer does not meet a payment deadline. The Prompt Pay Statute's penalty percentage was 18 percent but the decreased level went into effect on Sept. 1.
Some hoteliers thought they had to file damage claims by Sept. 1 to qualify to receive the late-payment penalty, but that is not the case, reports Insurance Journal. The law still stands, but at a lesser penalty rate.
Patel says the lowered percentage "de-incentivizes" insurers to make prompt payments and can increase financial hardship on a hotel business.
He has seen owners, who want to get back to business as soon as possible, dip into their PIP or CapEx fund to pay for repairs. When an insurance company finally comes through with the reimbursement, the hotel owner uses the "tack-on" late-payment percentage to replenish the savings account. A smaller percentage means less to put into the CapEx coffer.
Another problematic amendment to the Prompt Pay Statute is the new 60-day advance clause, which says a property owner has to notify the insurer he plans to sue for the insurance payment 60 days before actually filing the suit. The clause lengthens the time a hotel owner either has to operate a damaged property or leave the PIP account empty. "When it comes time to sue the insurer, the claimant has waited long enough," Patel said, adding businesses damaged by Hurricane Ike waited years before insurers reimbursed them.
The good news: According to Insurance Journal, the revised law expanded the conditions under which losses can be claimed. "The measure, HB 1774, was originally introduced as a response to widespread litigation over insurance claims disputes following hailstorms," said the Journal, "but during the legislative process this year it was expanded to include losses to insured property 'by forces of nature, including an earthquake or earth tremor, a wildfire, a flood, a tornado, lightning, a hurricane, hail, wind, a snowstorm, or a rainstorm.'"
*Editor's Note: Pimal Patel is a member of Farrell & Patel Law Firm. Ricky Patel is a partner and co-founder of the firm.