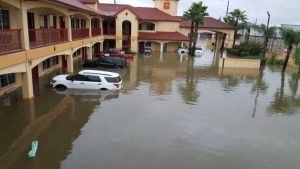 ON TUESDAY AFTERNOON, Sawan Patel, managing partner for Unity Hotels Group in Houston, was manning the front desk at his Best Western in the northwest portion of central Houston. The city is getting back to work, he said, albeit slowly. It had taken him two and a half hours to drive the 23 miles to work as commuters struggled through numerous street closings.
The company's four properties had escaped damage in the storm. "One of our properties has a bayou right behind it, so we had some water come over the fence into the parking lot," Sawan said. "We had a scare that it would get into the rooms, but it didn't."
As Harvey roared through town, Sawan was stuck in his house and, when the power went out at the Best Western where he was working Tuesday, he was unable to communicate with staff at the property, where a water leak before the storm had damaged 49 of its 60 rooms. "There was a period of time I was extremely worried," he said.
Now they're working to reopen those damaged rooms so they can accept more storm victims and more relief workers, as Unity Hotels has done at its other properties and as many other hotels are doing. "There are a lot of hotels providing accommodations for the relief workers," Sawan said. "They're going to be here for 30 days."
Bhavesh Patel, principal for ADM Hotels & Development in Cinnamon, New Jersey, and chairman of AAHOA, has been encouraging members in Texas to donate rooms to be used by victims and relief workers. "As of last week we had at least 250 rooms," he said.
Harvey took many owners by surprise, Bhavesh said. "It's getting harder and harder to run our properties. Trying to get people to come to work is hard."
Many owners, like Sawan, had been stranded at home, too, or at their hotels, Bhavesh said. "One or our ambassadors, we had to call the governor's office to go and rescue him."
Unity is offering its rooms at a reduced rate, $85 instead of the regular $119, and are not charging state and local occupancy taxes since Gov. Greg Abbott suspended the collection to aid relief-effort personnel and victims of the storm for 14 days. "We try to help out as much as we can," Sawan said.
Other hotels are also pitching into the relief efforts. Mirage Hospitality President and CEO Miraj Patel and the company's Vice President for Operations Saajan Patel have started a GoFundMe page has raised $21,575 of its $25,000 goal, raised by 138 people in eight days.
The funds raised will go to supplies for shelters around the city. "Our main objective for these funds is to buy supplies such as blankets, pillows, soap, shampoo, etc., for the ones who have been affected by this disaster," Saajan said.
Irving, Texas-based La Quinta Inn & Suites also has been housing first responders, recovery workers, displaced families and FEMA guests at its hotels, La Quinta Director of Public Relations Teresa Ferguson said. "To help, La Quinta has donated 9 million La Quinta Returns points and $25,000 to Team Rubicon as they deploy to the affected areas hundreds of military veterans and civilian volunteers to help with the recovery efforts," Ferguson said. "A site has been launched for La Quinta Returns members to donate their points and designate them for Team Rubicon to assist volunteers during the operation in the months to come."
La Quinta's social giving team is sending care packages and organizing donation/volunteer opportunities to assist employees in the impacted areas, Ferguson said.
Sawan Patel said he was "dumbfounded" by reports that another Best Western in Robstown, Texas, was engaging in price gouging. "There's just no place for that in this business at a time like this," he said.
For now he is not sure how he will offset whatever losses his business suffers as a result of the storm. "At a time like this, it's hard to gauge the future," he said. "We're taking it day by day."
Meanwhile, Bhavesh Patel is keeping an eye on Hurricane Irma, which could hit south Florida by this weekend. He is concerned about the effect another major storm will have on the distribution of federal funds. Bhavesh was a director for the AAHOA's mid-Atlantic region when Hurricane Sandy hit New Jersey in 2012. He housed displaced residents, emergency workers and insurance adjusters at his Holiday Inn and other hotels in Runnemede and Mt. Ephraim, New Jersey, in the wake of that storm. "I know during Hurricane Sandy it was a tough time getting money out of Congress," he said.
Marriott International also is closely monitoring Irma. "Our hotels in the current path of the storm have implemented storm preparation protocols," the company said in a statement. "We will be communicating pertinent information about the storm directly to our guests. We encourage travelers planning to visit the islands to check news about the storm for the most current information."