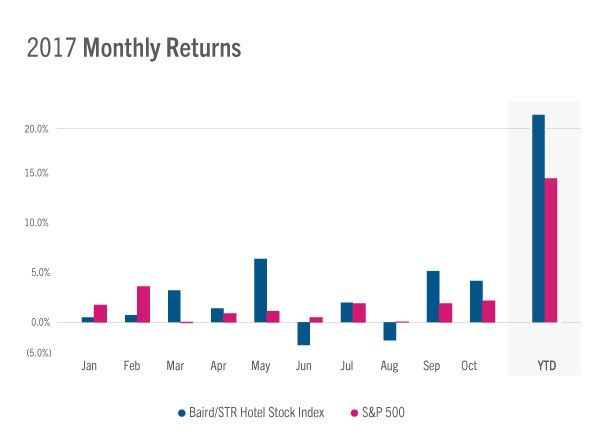 HOTEL INVESTMENTS WERE on the rise in October as the Baird/STR Hotel Stock Index increased 4.3 percent to close at 4,505 points. The increase shows investor optimism is overcoming near term performance concerns, including the recent hurricanes, and that positive outlook is expected to continue until next year.
The index was up 21.7 percent after the first 10 months of 2017. The Hotel Brand sub-index also increased 5.4 percent to 6,583 points from September to October, and the Hotel REIT sub-index increased 2.3 percent to 1,655 points during the month. The Baird/STR Hotel Stock Index growth for October exceeded the S&P 500, which grew 2.2 percent, and the MSCI REIT (RMZ), up 1.1 percent.
"Investors remain optimistic about the potential for tax reform to lead to improved growth next year," said Michael Bellisario, Baird's senior hotel research analyst and vice president. "Despite continued sluggish RevPAR growth trends and plenty of noise related to the hurricanes, investors appear to be looking through these near-term items and have extended their investment time horizons."
Bellisario also said there is optimism that 2018 will see even better stock performance than 2017, though there are no actual signs of that yet. However, investors seem to be setting their plans based on the hotel industry's recent performance, said STR President and CEO Amanda Hite, notwithstanding a dip in stocks seen in September.
"Post-hurricane demand in Texas and Florida lifted September performance figures considerably and masked the weaker corporate demand we saw from the shift in the Jewish holidays," Hite said. "September was actually the first month since the recovery began where there was a decline in Transient ADR, but this will likely be reversed in October data with the shift in Group demand and corporate travel. Moving forward, we expect the year to continue to show slightly higher demand growth than expected with ADR increasing at a much more sluggish pace considering the high occupancy levels."
Companies listed on the Baird/STR Hotel Stock Index include Choice Hotels International, Extended Stay America, Hilton Worldwide Holdings, La Quinta Holdings, Wyndham Worldwide Corp. and more.