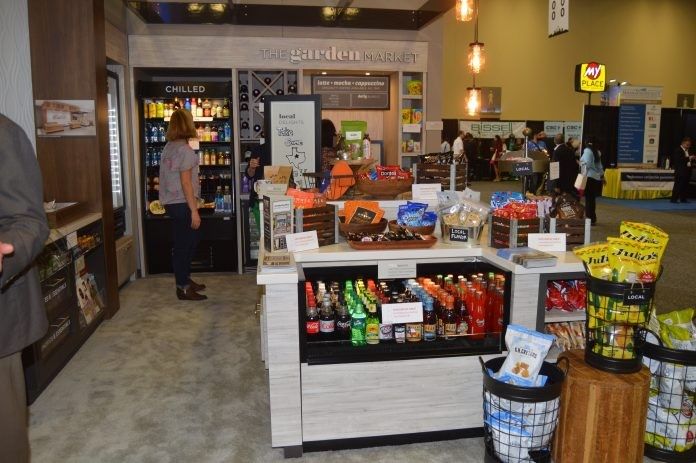 HILTON GARDEN INN is continuing its redesign by expanding its food and beverage program.
Last month, the upscale full-service brand unveiled six prototypes designed to cater to specific travel markets around the globe. The North American prototype is labeled the Magnolia. It has a smaller footprint and will enable owners to see a better business yield, Hilton said.
Following up on the prototype launch, Hilton Garden Inn last week unveiled a new food and beverage program that will redesign its retail nook, dine-in restaurant and bar while expanding the grab-and-go inventory and menu options. The concept debuted at the AAHOA Convention & Trade Show in San Antonio, Texas.
The new retail space replaces the brand's current Pavilion Pantry. Its expanded inventory includes items from local producers, including snacks, craft beers and wine. Added to the round-the-clock F&B niche are items Hilton considers healthier, including organic options. Joining the lineup is a self-serve specialty coffee bar.
John Greenleaf, HGI's global head, said the concept will better cater to guests who prefer a grab-and-go option before heading out for the day. "We're really taking a concept we've always had at our hotels, the Pavilion Pantry, and expanding it."
The market is the first step in the brand's F&B redesign.
For its restaurant, Hilton Garden Inn has redrawn the dining and bar areas to be more social. Hilton has refreshed the brand's breakfast buffet, featuring an open kitchen for cooked-to-order food. Beverages include signature cocktails, wines and craft beers along with appetizers and dinner entrees with local flavors.
Guests can dine in the restaurant or opt for "packaged delivery" meals that can be eaten immediately or saved for later in guest room refrigerators.
Greenleaf said the redesign is based on information Hilton from various sources, including social media, focus groups and input from general managers and owners. "We look at a number of sources before we do an evaluation."
As with the new regional hotel prototypes, the F&B design can be customized to fit the needs of individual hotels while retaining consistent elements across the brand.
The upgrades initially launched in several Hilton Garden Inn properties, including Arlington, Texas; Spring, Texas; Pensacola, Florida; Silver Spring, Maryland; Seattle/Bothell, Washington; and Krakow, Poland.