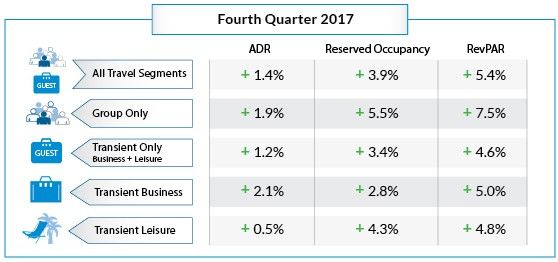 FOURTH-QUARTER PERFORMANCE for hotels in North America is a positive sign for the new year, says TravelClick in its November review.
All segments recorded an increase in ADR, up 1.4 percent, and occupancy, up 3.9 percent, said the firm, which tracks reservations on the books for hotels in the top 25 markets.
"Hoteliers are also experiencing a particularly strong uptick when it comes to bookings for both the group and transient leisure segments, up 5.5 percent and 4.3 percent respectively – largely a result of favorable economic trends, coupled with an increase in holiday travel this year," said the report. "Additionally, ADR is up 1.9 percent for group travel and 0.5 percent for transient leisure travel overall."
John Hach, senior industry analyst at TravelClick, advises hoteliers to "relish in the current state of the industry and enjoy the holiday boost consequently."
"Significant revenue per available room (RevPAR) growth accompanies these year-end increases in ADR and bookings. This last quarter has given hoteliers much promise heading into the New Year, especially considering the inconsistent market that we experienced throughout most of 2017."
Twelve-Month Outlook
For November 2017 through October 2018, transient bookings are up 4.6 percent year-over-year, and ADR for this segment is up 1.1 percent. When broken down further, the transient leisure (discount, qualified and wholesale) segment is up 7.6 percent, and ADR is up 0.7 percent.
The transient business (negotiated and retail) segment is up 1.4 percent, and ADR is up 2.6 percent. Lastly, group bookings are up 1.0 percent in committed room nights over the same time last year, and ADR is up 1.8 percent.
"While these fourth-quarter numbers are a breath of fresh air, hoteliers shouldn't lose sight of the preparations needed for the post-holiday season, especially given the weakness in first-quarter 2018 group committed occupancy," said Hach.