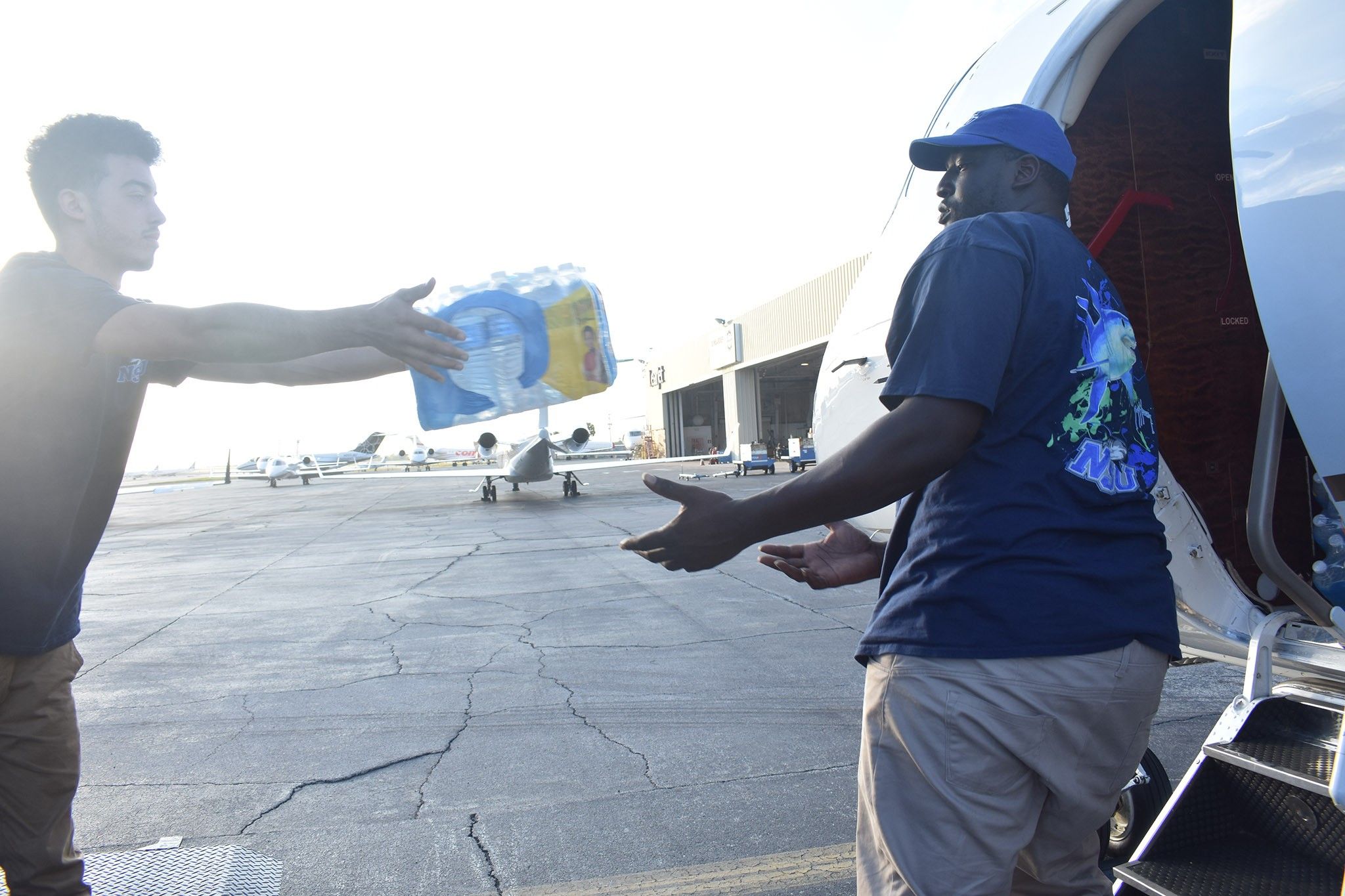 AS RESIDENTS OF Puerto Rico continue to recover from Hurricane Maria, Tampa Bay, Florida, hotelier and philanthropist Dr. Kiran Patel is trying to make sure at least some of them get much needed supplies. Patel has volunteered one of his private planes to fly supplies to, and some people from, the Puerto Rico campus of Fort Lauderdale, Florida-based Nova Southeastern University, an institution to which he also committed $200 million to fund two new colleges.
Patel volunteered one of his four private planes to use in the school's relief efforts shortly after the storm hit on Sept. 20. "It was known at that time there were no commercial flights," he said. "Even now, when you send by FedEx, the challenge is reaching remote parts."
On his first trip, Patel brought back several senior family members to Tampa for care. Since then, Alex MacNamara, NSU's executive director for facilities management, has made five trips on Patel's plane to bring 8,000 pounds of supplies to the school. MacNamara said the school had shipped another 20,000 pounds via Federal Express, but that shipment was held up in a warehouse on the island for a while and only recently started to be delivered to the school.
The situation on the island remains unstable, MacNamara said. "Today about 12 percent of the island doesn't have power," MacNamara said. The NSU campus shares a grid with a major hospital, however, and power was restored there eight days after the storm. "Although the power is a little inconsistent at times, we do have grid power."
They also have generator back up, but using that too much is not good for the generator. "A couple of weeks ago, we were off grid power for three days," MacNamara said.
NSU's Puerto Rico campus is located in a single four-story, 35,000-square-foot building in San Juan. The roof incurred some damage and seven windows were broken, and there was water intrusion into some offices, classrooms and labs, MacNamara said. A remediation company is working on replacing drywall and carpeting in the affected rooms, and while class is back in session the school's labs will remain closed until that remediation work is done, he said. The work should be about 80 percent complete by the end of this month,  MacNamara added.
The approximately 700 students at the campus had requested that it remain open 24/7 while the island is recovering, but MacNamara said that wasn't possible due to safety concerns. They did extend the school's closing time until 9 p.m. "Students are just looking for a place to do their work," he said.
Patel became involved with NSU earlier this year. "I was planning to start my own medical school in the U.S. When I met them, a discussion arose about a partnership," he said.
Through the Patel Family Foundation, which Kiran Patel founded with his wife Dr. Pallavi Patel, the Patels invested $50 million in cash and $150 million in real estate for the construction of a 325,000-square-foot medical education complex that will be part of NSU's new Tampa Bay Regional Campus, in Clearwater, Florida. The campus will house a new site for NSU's College of Osteopathic Medicine, to be named the Dr. Kiran C. Patel College of Osteopathic Medicine, as well as the Dr. Pallavi Patel College of Health Care Sciences and some existing programs.
"This gift and additional investment will enrich NSU's ability to educate highly-qualified physicians and health care professionals who understand how the medical disciplines can and must work together. These future leaders will represent the cultural diversity of our region, our nation and our world so that they can better serve their patients and communities," said NSU President Dr. George Hanbury.
Patel, who also owns the Wyndham Grand Clearwater Beach Resort and other properties around Tampa Bay, is well known in the area for his philanthropic work. In March, for his birthday, Kiran Patel donated $5 million to Florida Hospital Carrollwood in Tampa to help fund the $21 million modernization of the hospital's catheterization (cath) lab and emergency department.
His foundation has funded schools and hospitals in India and Zambia and Patel is a regular donor to the University of South Florida.
Patel built the WellCare Management Group, which he sold in 2002 to a private equity group, dedicating much of the proceeds to philanthropic work in the area, according to a press release from Florida Hospital Carrollwood.
Patel entered the hospitality and commercial real estate industry 26 years ago. His real estate assets also include the 700-room Wyndham Hotel in downtown Pittsburgh and the 241-room Wyndham Grand Westward Look in Tucson, Arizona. He also owns other limited service hotels throughout the Tampa Bay area, including a Holiday Inn Express, Quality Inn, Wingate by Wyndham, Howard Johnson and a La Quinta. In September he acquired the Cheyenne Mountain Resort in Colorado Springs, Colorado, through his Cheyenne Resort Acquisition Group LLC.
Patel may be involved in numerous business and personal projects, but they are all directed toward a singular goal. "My passion and pleasure is making an impact on this world and leaving a footprint such as it will have a long lasting and positive effect," Patel said.