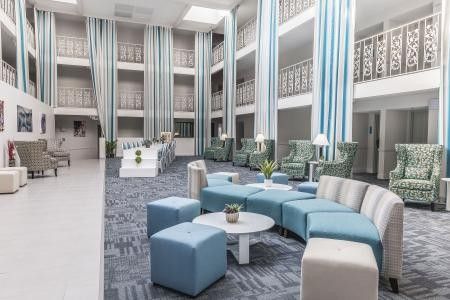 Management company's newest project first go in boutique segment
THE OCTOBER GRAND opening of The Blu Hotel in the Cincinnati neighborhood of Blue Ash, Ohio, represents a new direction for Kal Patel's Crestpoint Cos. The independent boutique hotel is Crestpoint's first attempt at renovating with the goal toward up-branding a property. It isn't likely to be its last.
The Blu was originally a limited-service midscale Quality Suites, but is now part of Choice Hotels International's upscale Ascend Collection. "This was our first venture doing something very unique like this," said Crestpoint President and CEO Kal Patel, one of the investors in The Blu. "Being a 50-room hotel, there is only so much you can do for revenue. We had to look at ways to upgrade the charge per room."
The upgrade aims to give the hotel an upbeat feeling with a "jazzy theme" décor, Patel said. "We are hoping to attract folks from across the board, from leisure travelers to business folks," Patel said. The Cincinnati Music Festival is to take place in July and "the hotel is something that will be attractive to those guests coming through."
The hotel has bigger rooms to accommodate business travelers, and the open layout of the atrium makes it suitable for large groups, such as sport teams. "Because of the size of the hotel, we can target people looking to have meetings or events. It's almost like an Embassy Suites but shrunk down. It gives you a nice open space."
"[The Blu] was an acquisition opportunity and we saw a conversion opportunity," said Girish Patel, CEO of Phoenix-based NewGen Worldwide, a hotel owner and broker and Crestpoint's partner on The Blu and two other properties, a Days Inn and a Ramada Plaza in Owensboro, Kentucky. "It also allowed [Crestpoint] to diversify its management experience outside of typical box hotels into the boutique hotel model." Hotels acquired by Crestpoint and NewGen were underperforming assets in strong markets. "In that case, you want to reposition," Girish Patel said.
Crestpoint currently manages 11 hotels as a third party manager in the Cincinnati metropolitan area's tri-state region of Ohio, Kentucky and Indiana. Over the years, the company has managed 20 properties, Patel said. The company began in 1999 with the development of a Days Inn & Suites in Castle Rock, Colorado. Patel, an Oklahoma native, moved from Colorado to the Cincinnati area in 2003 to be closer to his wife's family. Since then, Crestpoint has expanded to develop or manage 19 properties. It also has completed five receiverships of distressed assets. The company stabilized the properties' operations by increasing revenues, negotiating past debts and promptly and accurately reporting to lenders and legal parties, according to company documents. Crestpoint then acted as the sale agent, arranging the purchase and transfer to new ownership.
"[Crestpoint] actually has a strong management foothold in tri-state area," Girish Patel said. It also has a diversified portfolio that includes brands by Marriott, Hilton, IHG, Choice and Wyndham. "That gives them a wide range of options." Operating diverse brands in different segments "allows them to take advantage of any market opportunity in their geographic region," he said. In addition, Crestpoint has built the infrastructure of a cross-trained staff that can float between properties. "This drives maximum profitability for the investment group," said Girish Patel.
Kal Patel says The Blu is a good template for future developments. "The folks locally have really been amazed by it," Patel said. In general, he said, the company has a three-pronged approach to growth – development, management and acquisitions. "On the development side, we are continuing to develop additional hotels in high-barrier-to-entry markets, with three under construction and one breaking ground in early 2017," Patel said. "On the management side, we are in the process of adding two third-party management agreements within the next two months and are looking at growing this segment by adding three to five third-party management agreements in 2017. On the acquisition side, we are consistently looking at acquisitions that fit our criteria of requirements."
Along with its three acquisitions with NewGen in Cincinnati and Owensboro, Crestpoint has developed eight new hotels. Other recent projects include Home 2 Suites by Hilton in Liberty Township, Ohio, which opened in August. It also, it recently broke ground on a Holiday Inn Express & Suites in Wilder, Kentucky, set to open next year.