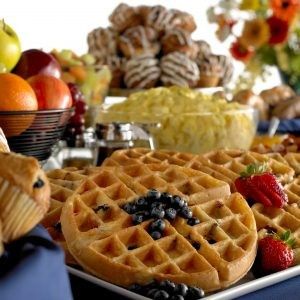 NATIONAL WAFFLE DAY was Aug. 24, but the celebration continues at Comfort Inn locations where the brand continues to hold complimentary breakfasts for local hometown heroes. Also, through Oct. 12, Comfort is asking guests to pick a new flavor for the breakfast staple as part of its #WhatsYourWaffle campaign.
This is the second year for the event at the Comfort Suites in Rapid City, South Dakota, where General Manager Davis Dathe hosted a two-hour brunch for the city's police department. "We hosted more than 50 members of the Rapid City Police Department and thanked them for serving and protecting our community," Dathe said.
In Fremont, Ohio, the Comfort Inn & Suites invited teachers and administrators from a local elementary school and a health care facility for a brunch that, of course, included several flavors of waffles.  "We're always looking for ways to thank those who give back to the communities in which we serve," said General Manager Jason Hawkins.
Participants in both events cast their #WhatsYourWaffle vote as well. During the campaign, participants vote online from a list of flavors that include Birthday Cake, Sweet Caramel or Cinnamon Roll or submit their own recipe at ComfortHotelsWaffleDay.com. Recipes also can be submitted via Twitter, Instagram or Facebook with the hashtags #WhatsYourWaffle and #Sweepstakes. The sweepstakes winner earns 500,000 Choice Privilege points, or almost 30 free stays at a Comfort hotel.
More than 500 Comfort hotels are holding hometown hero events throughout the #WhatsYourWaffle campaign. "On average, about 32 million waffles are served at Comfort Inn and Comfort Suites hotels every year," said Megan Brumagim, head of Comfort brands for Choice Hotels.
Also, Choice is bringing Los Angeles-based The Food Network chef Eric Greenspan to deploy food trucks and street teams serving samples in Portland, Oregon, Houston and Pittsburgh.