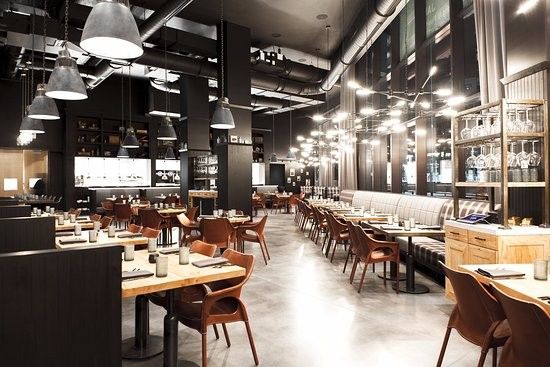 AS COMPETITION GROWS among lifestyle and boutique hotels, property owners and managers are looking more to food and beverage to define a brand's image and set it apart in the local marketplace.
Hospitality Ventures Management Group of Atlanta has created a department specifically to imagine new F&B concepts to give its owned and managed hotels a unique identity.
In 2017, HVMG opened three upscale lifestyle hotels in the U.S. with one-of-a-kind and custom-created F&B outlets – the Hotel Indigo Denver Downtown, the Hotel Indigo Atlanta Downtown and Plunge Beach Hotel in Lauderdale-by-the-Sea, Florida.
While Hotel Indigo, a lifestyle brand by InterContinental Hotels Group, is known for its individual designs that reflect a neighborhood's history, culture and vibe, the brand leaves a lot of room for creativity, especially in F&B.
Independents, soft-branded or not, give hotel chefs the ultimate blank slate to build an identity through F&B for both guests and locals.
"Plunge Beach Hotel is an excellent property to showcase our skills in this arena," said Robert Cole, HVMG president and CEO.
Plunge Beach Hotel lets guests experience the classic American beach town. The hotel features multiple F&B and retail offerings, all custom created by HVMG specifically for the hotel.
Backflip Beach Bar is a "toes-in-the-sand" beach bar. Adding to the options are the Octopus Lobby Gastropub and the Barnacle and Bean Coffee Shop, which serves locally roasted coffee, fresh sandwiches and gelato. The hotel's food reflects its seaside surroundings. Items include fresh-off-the-boat seafood and food truck selections such as street tacos. It offers organic sweets, small plates and citrus-infused cocktails and small-batch beers.
Richard Jones, HVMG chief operating officer, said Garron Gore, is "the creative force behind all this." Gore is HVMG's director of food & beverage innovation.
"The message we are trying to convey is there are new paths in design and lifestyle space," Jones said. "F&B is a huge part of it because it's all about experience, design, concept and branding. F&B is a big differentiator for hotels and for us as a company."
Once considered a loss leader for full-service hotels, Jones said the F&B trend began to turn around three to five years ago with the advent of soft brands and design-driven boutique hotels in urban markets. "It's a bit of an evolution, and in these hotels restaurants and bars are becoming more prominent. They are becoming a profit center, driving a higher volume of business as they attract locals. They are more than an amenity for guests. People know about your hotel because of your restaurant."
Gore agrees. "It's an overall change in the approach to F&B. Because of top chefs, everybody is a foodie. Thirty to 40 years ago, when you went out to dinner, you dined in hotels. It's starting to come back. Owners and managers are looking more holistically at the business and F&B."
Gore credits Kimpton Hotels & Restaurants for redefining the F&B segment. IHG acquired Kimpton in 2014. Its restaurants are attached to its boutique hotels but are managed as a separate business, thereby attracting locals and guests from other hotels. "We want to imitate that concept," Gore said. "When the stars align, you can create a significant restaurant.
"When we look at properties and new builds, the first thing that comes out of our mouths is 'How we can cater to locals and position the restaurants to do that?'"
At the Hotel Indigo in Denver, for example, the restaurant called the Hearth & Dram has an entrance separate from the hotel. "It creates a whole third-party element to the hotel," Gore said. "When diners come into the restaurant, they point to the hotel's front desk and ask, 'What's that?'
"If everything aligns, you can take care of your guests but also be there for the neighborhood. It lets locals be a part of the story and guests be a part of the neighborhood.
"It's wonderful food and drink that people talk about, but we believe there is an opportunity to do so much more."
To avoid a brand or identity crisis, Gore said the key is to operate in transparency. "Provide information to your guests about the F&B options in your hotel. It's a courtesy and you can encourage them to visit the hotel's restaurant at least once during their stay."
Most guests don't eat every meal at the hotel, which is why it's important to market the restaurant and bar to locals. "When we opened the Plunge Hotel's Octopus Gastropub, we invited the community as well as those in the hotel industry. It unites the neighborhood," Gore said.
And don't overlook the B in F&B. "Cocktails have evolved dramatically over the past five years as well," Gore said. "At the Plunge we offer clean acidic cocktails. We introduced frozen cocktails – a standard cocktail in a different form, like a frozen Moscow mule."
Hiring restaurant and hotel staff who know the local area is a smart move. "At the end of the day, we hire on personality," said Jones. "We can teach you to make a cocktail but it's the locals who can tell the neighborhood story. It creates that connectivity with our guests and encourages them to come back or to recommend."