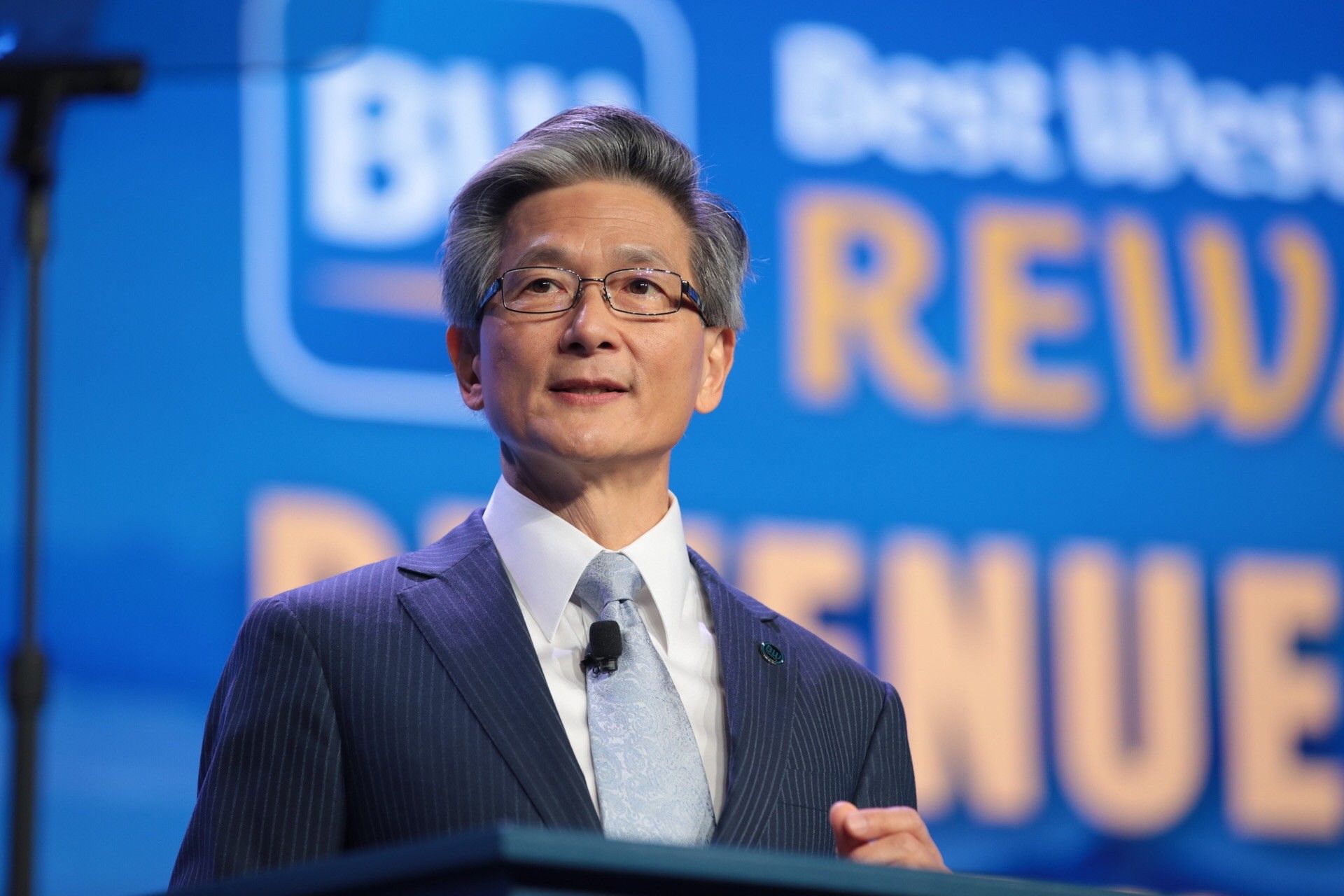 BEST WESTERN HOTELS & Resorts Inc. has had unprecedented success over the past six years, growing from one brand to 11 today. But David Kong, president and CEO, and his leadership team say the company is just getting started.
During its annual conference held in Nashville, Tennessee, this week, Kong and other key executives in marketing, development and technology urged 2,500 audience members to avoid growing complacent.
Best Western's hotels have maintained an average RevPAR index of 110. In terms of dollars, that is a RevPAR gain of $25.
Its loyalty program, Best Western Rewards, over the past 12 months has generated 44 percent of the company's revenue – an average of $850,000 per hotel.
Since the company launched its Design Excellence six years ago, owners have spent more than $2 billion to upgrade their properties and improve the guest experience.
Best Western's corporate leadership used their time on stage today at the Gaylord Opryland Hotel & Convention Center to outline several new initiatives they hope owners will agree to in 2018.
Best Western is a not-for-profit membership-based company where owners of its 2,000 hotels in North America will decide on such proposals as increasing the consumer marketing budget, adding more incentives to its loyalty program, adopting new technology platforms and reconfiguring membership market areas or owners' territories to grow Best Western's multi-brand footprint in primary and secondary markets.
Best Western has more than 4,000 hotels around the world, but it is the North American owners group that votes on new proposals.
Dorothy Dowling, chief marketing officer for the Phoenix-based company, said the company plans to ask members to support its expanded advertising budget. Most of the initiatives are technology-related – a must in today's consumer-focused environment.
Best Western has experienced "critical inflection points in the past" and is now facing another one, she said. "Only this time, the stakes are higher."
While the U.S. and global hotel industry has been riding high since climbing out of the trough of the Great Recession six years ago, the sector "is experiencing profound change and a high degree of uncertainty," Dowling said. "In fact, this is the most uncertain time I've seen in my 30-plus years in this business."
Consumerism, driven by technology, has created a new normal, and sellers of products and services, including hotels, are seeking ways to navigate the "next revolution" and remain relevant, she said.
"The next revolution is the massive shift we have made to digital – from the internet to Apple watches, tablets and smartphones. More and more, people are seeking out technological solutions to life's challenges and daily routines. And this digital shift has had a powerful effect on the marketplace.
"The biggest impact in my mind is the customer-first economy it has produced – something I often refer to as the OMG economy." Customers can search the internet whenever and wherever they want. They are more informed than ever, and they hold the power to drive business in the directions they want and expect, Dowling said.
"In today's OMG economy, it's the customer who decides who wins. And it is our job to help them choose us."
Dowling and Greg Adams, chief digital officer, each talked about adding more technology to Best Western's consumer-facing website and its back-end support functions. Dowling said the company will enhance its website's Google 360 with video that will set each hotel website up for the next generation of video virtual reality and augmented reality.
"We are creating eight to 10 videos per property that will be integrated into Google's search results and Google My Business," Dowling said. "These videos will highlight different areas of the hotel with professional voiceovers and will be available for all properties by the end of the year."
To learn more about the new Google Maps feature more, check out this article on The Verge.
Adams reminded the audience that three years ago owners passed a ballot to increase funding for technology. In 2013, the year before Best Western began its "digital transformation," its channels delivered more than $1.2 billion in business to hotels around the world, Adams said. In 2016, the amount increased to $2 billion.
Also last year, Best Western launched its new website, which in September tallied an 11.4 percent increase in business.
Adams said the company plans to consolidate its PMS platform, which now involves 18 different systems. He called it an anchor around Best Western's neck. Reducing the number of property management systems, he said, will improve efficiency, cut costs and enable the company to move faster and, therefore, better compete.
In a separate interview, Adams told Asian Hospitality he would like to see the number of PMS platforms honed down to three.
Among the several programs outlined by Ron Pohl, chief operating officer, one is focused on encouraging current Best Western owners to franchise and development any of Best Western's 11 brands.
Pohl said he will soon send all voting members an email with a short letter of intent which they can return to indicate interest in building a branded hotel or converting an independent to one of its soft brands. Last week, the company launched its third soft brand, BW Signature Collection aimed at upper midscale properties.
"When we discuss growing our scale, investing in the future of the brand, we need more members in this room to build or convert a hotel into Best Western, your brand," Pohl said. "We need to develop more hotels in primary and secondary markets. So why not be the developer in your market?
"What if 10 percent or 20 percent of our members in this room committed to a new project with us, we could double our pipeline today."
Pohl also said Best Western will propose reconfiguring its areas of protection – called a membership market area or MMA – especially in the Top 50 primary U.S. markets or MSAs as defined by STR and the Top 150 secondary markets.
In a separate interview with Asian Hospitality, Pohl said the size of the MMA would depend on which brand is proposed for a market. For example, if a midscale Best Western exists in a market where someone wants to build a Best Western Plus, an upper midscale brand, or a Best Western Premier, an upscale offering, the size of the MMA would be reduced by half, say from two miles to one mile.
However, for Vīb, an upscale lifestyle brand, and the GLō, a midscale boutique brand, they are so different from any of the Best Western descriptors, there would be no defined MMA, but the owner of an existing Best Western hotel would still retain impact rights. That means if a third-party feasibility study deems the new hotel would negatively impact the existing business, the new project would not be approved.
Pohl said when it comes to encouraging the development of new brands, many members want to see the first iterations up close. In a couple months, the first Vībs and GLōs will open and give prospective developers a real idea of what the brand will look like. Pohl believes once that happens, brand development will gain a stronger momentum.
Currently, there are 30 GLōs in the pipeline and three are under construction. There are 15 Vībs in the pipeline.
Best Western owners have opened two Executive Residency hotels, its new extended-stay brand; four are under construction and 42 are in the pipeline. Of those approved, most are dual branded with Best Western Plus, Premier or Vīb.