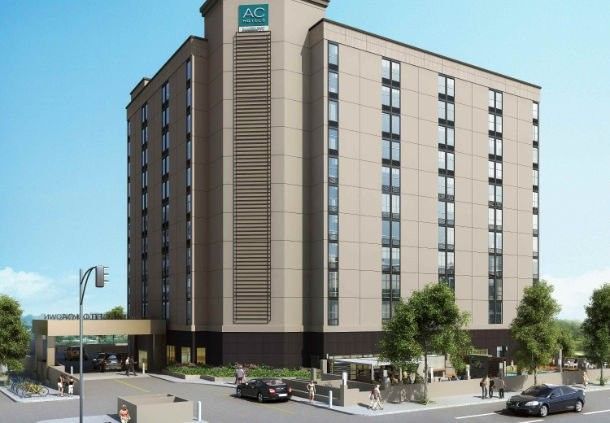 PEACHTREE HOTEL GROUP expects to open its AC Hotel by Marriott by June in downtown Atlanta.
The Atlanta-based development company acquired the then-Holiday Inn one year ago this May and in June began a $20 million makeover that has transitioned the property to the upscale lifestyle brand. Mitul Patel is chief operation officer of Peachtree Hotel Group, and Jatin Desai is chief investment officer. Greg Friedman is CEO.
The hotel has remained opened during renovations under the name Centennial Inn. The 11-story building was constructed in 1985 and had operated as a Holiday Inn since 1999. It had 260 rooms, but renovations reduced that number by five.
The AC Hotel Atlanta Downtown is accepting reservations for June 1 and beyond.
It is within walking distant to the upcoming Mercedes-Benz Stadium, future home of the Falcons, Phillips Arena and the College Football Hall of Fame, in addition to a host of restaurants, nightlife options, tourist destinations and office buildings.
"The downtown Atlanta area has seen a resurgence and significant growth in the last several years, and the opening of the new AC Hotel Atlanta Downtown is representative of the area's thriving economy," said Patel.
The AC Hotel F&B model features a paid breakfast buffet and a bar and lounge that serves small plates.
The Downtown Atlanta hotel will debut a 24-hour health-and-fitness studio, an outdoor patio and swimming pool and an enclosed Zen garden with greenery walls for guests who wish to experience a quick escape from the hustle and bustle of the city.
"Modern travelers are seeking an experiential hotel stay with spaces that are both engaging and personal, and providing a variety of active, social venues that can transform according to guests' needs has always been top of mind," Patel said. "We believe the gorgeous green space in the Zen garden, in particular, will be very popular with guests throughout the year."
A media salon on the lobby level will offer a communal startup space for sharing ideas and practicing prior to meetings – and will feature a 55-inch flat screen television with advanced technical mirroring capabilities for devices including smartphones, tablets and laptops. The hotel has 2,500 square feet of meeting space and 107 parking spaces.
The AC Hotel Downtown Atlanta is the second AC Hotel to open in the area. Noble Investment Group, also of Atlanta, last year opened an AC Hotel in Buckhead, a city financial and business district. Noble Investment is also building an AC Hotel as part of a dual-branded project with a Moxy Hotel in midtown Atlanta.